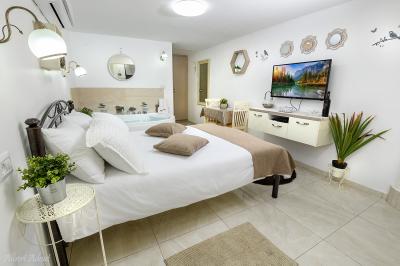 Romance, atmosphere and lots of quiet and peaceful complex magical vacation suites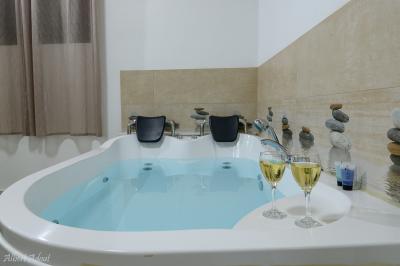 A luxurious family holiday experience in a new and beautiful complex
About Us
Nofesh Kasum Suites - A new and well maintained vacation complex that provides heartfelt hospitality in a perfect location in the north of Israel
New Compound! Launched in April 2019Located 15 minutes from Mount Meron - perfect location for Lag BaOmer!In Moshav Kfar Hanania, pastoral and green, on the seamline between the Upper Galilee and the Lower Galilee, in a perfect location to meet the beauty of the north of the country, there is a pampering complex called "magical vacation suites". Two beautiful suites are suitable for romantic couples and the second is suitable for family accommodation. Moshav Kfar Hananya is a short 15 minute drive from the shores of the Sea of ​​Galilee, the magical city of Safed and the picturesque Rosh Pina colony, as we have said, the location is perfect and the guests in the beautiful magical vacation suites will enjoy a perfect combination of holiday and attractions.The suites share a well-kept outdoor area with hammocks, comfortable seating areas, a barbecue corner and a refreshing swimming pool with sun loungers around.
interior of the suites
In the magical vacation suites complex you will find 2 pampering and well equipped suites, one for a double and the other for a family.Each suite is equipped with a comfortable double bed, a double Jacuzzi, high quality and romantic with comfortable headrests, a smart TV screen with a TV connection, a spacious bathroom and a fully equipped kitchenette that meets all needs, including: refrigerator, microwave, coffee / tea corner, electric kettle , Electric stoves and cooking and cooking utensils.* In the family suite you will enjoy a spacious and stylish living room with a dining area and a separate master bedroom that includes a romantic Jacuzzi and a TV screen.
Common Foreign Area
The hotel also has a beautiful swimming pool, a barbecue area, and an outdoor stand for cooking, including a hob and a sink.
Include on vacation
Guests at the magical vacation suites will enjoy a variety of treats including: fine wine, tea / coffee, milk, cookies, chocolates, , scented soaps, soft towels and . extra charge: Pampering breakfasts are served directly to the pre-booked suite. You can add a delicious homemade couscous meal. You can also enjoy treatments and massages in advance. You can decorate the room for birthdays, marriage proposals and more, by appointment.
Attractions nearby
Surrounding the village and the community itself you will find a variety of exciting attractions including romantic horse tours, and field trips, rasers and jeeps. For those who enjoy hiking in nature, the area offers plenty of hiking trails in rivers, mountains and historical sites. In the area of Kibbutz Farod, a mini-golf complex and creative workshops for children, rafting in the Jordan for extreme enthusiasts, for those who are looking for a vacation like a belly back to the shores of the Sea of Galilee are a short 15-minute drive. In the culinary area you can enjoy good and varied restaurants in the Rosh Pina colony or in the picturesque city of Safed.
Important Information
The Sabbath-keeping compound - can not be performed on and put fire music on the Sabbath.
Booking Conditions
click here
facilities
Reviews on Nofesh Kasum Suites
Reviews were written by visitors who stay us a guest in
Nofesh Kasum Suites
Found a mistake on the pag Nofesh Kasum Suites ?
click here