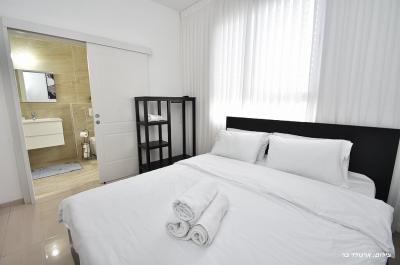 Accommodation in five bedrooms with a heated indoor swimming pool
About Us
blue sky - Extra pampering accommodation with a spa Jacuzzi and a heated indoor swimming pool
The beautiful and invested guest suite "Blue Sky" located in the Kinneret landscape in the Upper Galilee.The well-equipped and spacious suite has 5 large and spacious bedrooms, and 3 bathrooms, it is suitable for up to 20 people, 10 adults and 10 children.Groups, families with couples can be hosted and events can be held for up to 30 guests.* In July, August and holidays, the complex is sold as a villa only (minimum order 4500 NIS)In the private courtyard you will find a particularly pampering spa Jacuzzi and a fenced swimming pool (heated and covered in the winter months), and a magical mountain view.A short drive from the complex you can enjoy a variety of hiking trails, good restaurants, shopping malls, activities and attractions for children and more.
The suite
The suite is decorated in modern tones, on a very clean line and boasts design accessories that complete the experience.In the center you will find an extra large living room, spacious and decorated in dark shades, next to it are personal armchairs in shades of turquoise. In front of the living room is a smart TV connected to YES cables, and wireless internet. You will also find a fully equipped kitchen with everything you need to make your vacation perfect, from an extra large refrigerator, stove, espresso machine, microwave, oven, water bar, dishes and more. Extra large dining table for 20 diners with a huge showcase overlooking a perfect view .In the suite you will find five double bedrooms, each with a double bed, a TV and complementary accessories.In addition, you will find 3 bathrooms with a shower and toilet, where you will find quality and soft towels, toiletries, soaps and more.* You can ask for a playpen for babies On weekdays - the suite is also rented for couples.In July and August, holidays and weekends the complex is rented as a villa - minimum for booking 6 vacationers.
Outside area
In the beautiful and pampering outdoor area of the complex you will find a private, fenced swimming pool (heated and covered in the winter months), designed and pleasant with next to it sun beds, luxurious furniture and especially comfortable seating areas.You will also find a particularly pampering whirlpool spa, a tidy barbecue stand and children's play facilities including an air hockey table, ping pong, and a trampoline.From the beautiful courtyard you can look forward to the marvelous green mountains and beautiful valleys filled with delicate vegetation.Guests have 5 private parking spaces, free Wi-Fi throughout the complex, and more.
Included in accommodation
By prior arrangement and extra charge you can enjoy rich and varied breakfasts, excellent chef meals.You can hold events for up to 30 guests, with or without accommodation. * For the religious public by prior arrangement, a Shabbat hotplate will be waiting at the villa, and from there, a Shabbat clock and a double sink in the villa. (Short walking distance to the synagogue)
Location
Within a short drive you can enjoy hiking trails, magical views, good restaurants, heritage sites, shopping centers, activities for children, attractions on the shores of the Sea of Galilee and Jordan Park, bird watching in the Hula Valley, Hamat Gader Spa, local wineries and more.
Important Information
Events for up to 30 guests can be held at the complex.* In July and August, holidays and weekends the complex is sold as a villa only *
Booking Conditions
click here
facilities
Reviews on blue sky
Reviews were written by visitors who stay us a guest in
blue sky
Found a mistake on the pag blue sky?
click here