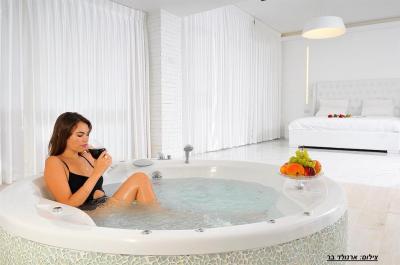 About Us
Blanco - We never knew how white can be prestigious!
A white bathroom, a white bed, a central white space and even the outside area, leaning on the colors of the white ... We never knew how white can broadcast luxury and cleanliness at the same time, stay in the Blanco suite, which by the way was not just called that - Previously, simply describes the wonders of the place.Spacious and spacious interior space, luxuriously decorated with white elements and touches of delicate color, an exterior complex with an excellent height that looks out to a magnificent view of the Western Galilee, with a quality wooden roofing and a completely private swimming pool!
The suite
With a very high ceiling, a separate children's room and a wide window wall that opens onto the pool complex, the suite creates a spacious and huge view with plenty of room for yourself.In the luxurious suite you will enjoy a spacious and designed double bed, on either side of which are special light bulbs and matching cabinets, a beautifully decorated gas fireplace in a modern brick wall, a large round jacuzzi in the center of the suite, a comfortable corner with an LCD screen and a connection to HOT channels, Spacious shower with an oversized shower stall with two rainheads, a separate children's room with a bunk bed and a TV screen, a fully equipped kitchenette including an espresso machine, a water bar, dishes and more.
The Foreign Compound
In the foreign area you will enjoy a completely private, covered and well-fenced area, overlooking a magnificent view, which you can reach by moving the panoramic windows in the suite and built in a huge pergola style.The complex has a heated indoor swimming pool, a professional jet system and beautiful interior lighting, a completely enclosed area, a professional dry sauna, a dining table, a large double hammock, an external 60-inch TV screen and sitting corners scattered around.* Enjoy a barbecue corner in a separate area.
Emphasis on the spot
Bottle of wine, beers, milk, fine chocolates, crispy cookies, soft drinks, capsules for the espresso machine, bath towels, pool towels, soaps, spa shoes and cozy robes.In advance notice, the Zimmer can be prepared for a special event.extra chargeEnjoy a tasty and rich breakfast.Pampering massage treatments are available in advance.
Important Information
To the religious publicThe refreshments are kosher, the synagogue is nearby, a mikveh (ritual bath) is available in the community and it is possible to provide a kitchen and a Shabbat plate.for childrenThere is a fully equipped children's room, a baby cot and beds can be added.
Booking Conditions
click here
facilities
Reviews on Blanco
Reviews were written by visitors who stay us a guest in
Blanco
Found a mistake on the pag Blanco?
click here