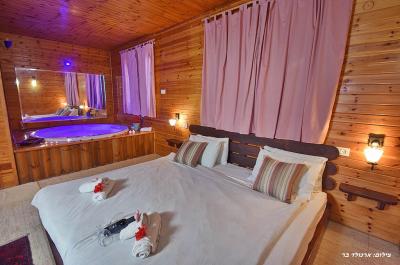 Raz chalets A Galilean vacation experience, peaceful and relaxing in a well maintained green area with a luxurious swimming pool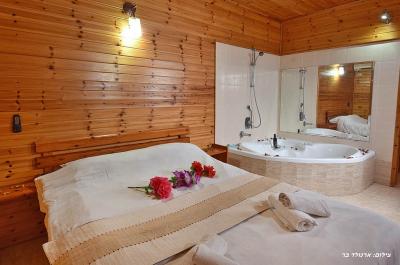 A romantic experience in a charming wooden cabin with a romantic jacuzzi and private balcony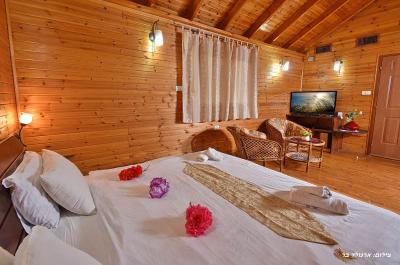 Wooden cabins in a rustic atmosphere with huge Jacuzzi in the room
About Us
Biktot Raz - Romantic and romantic wooden cabins for couples and well-groomed family families with a refreshing swimming pool
In moshav Manot in the Western Galilee, only 15 minutes from the city of Nahariya, among the beautiful oak trees, are 4 wooden studio cabins, immersed in green and a pastoral and intimate atmosphere. The wooden cabins are spacious, designed and equipped to a high standard, ensuring guests a luxurious and unforgettable vacation experience. The 3 cabins are located side by side, while the fourth hut is isolated. In Raz Cabins you will also enjoy warm and courteous hospitality, privacy, romance and intimacy in every corner of the complex. Each cabin has its own private wooden balcony with a seating area. The complex is suitable for all types of resorts, couples, families and the religious public.
interior of the suites
The cabins are spacious studio cabins and in each cabin you can enjoy a huge and luxurious double bed of 2x2 size. Next to it is a huge, pampering double Jacuzzi with candlelight, which includes romantic lighting and a window overlooking the green nature outside. A spacious, well-equipped bathroom includes soaps and soft towels. In the cabin you can also enjoy an extra spacious living room, LCD TV with cable connection, air conditioning, a cozy dining area and a fully equipped wooden kitchen including a refrigerator, microwave, stove, electric kettle, coffee and tea corner. Each cabin also has a spacious, covered private balcony facing the green courtyard and the pine trees.* 3 wooden cabins are the same size and can accommodate up to 6 guests and the fourth cabin is smaller and can accommodate 3 guests.
common and well maintained compound
In the heart of the well maintained garden you will find a large swimming pool surrounded by a safe wooden fence. In the evening, the pool is lit with pleasant lighting. The pool has sunbeds and garden courtyard with hammocks and hammocks for guests' use (not on Shabbat). The private complex includes parking, and is also suitable for the religious public.
Include on vacation
(Wine will be given on weekends and holidays), chocolates, coffee and tea corner, fresh milk, quality bath towels, toiletries: shampoo, conditioner, soaps.Additional charge:Rich, tasty breakfasts can be ordered in advance.A variety of massages and treatments by invitation and coordination in advance.
Attractions nearby
In the area you can enjoy a wide variety of attractions and recreational activities. Among other things, you can visit the Rosh Hanikra (Monasteries), Lake Monfort, Keshet Cave, Old Acre, nature trails, jeep tours, horse riding and quality restaurants. The settlement is only 15 minutes from the city of Nahariya, where you can enjoy a beautiful promenade along the sea, shops and shopping malls, the beautiful beaches of Achziv and Nahariya are a short drive away.We will be happy to recommend and advise our guest about the entertainment options available to them.
Important Information
* You can not barbecue on Shabbat.* External amplification systems can not be added to the complex.* Animals can not be placed in the compound.* During the holidays of July and August you can rent the entire complex for your enjoyment.
Booking Conditions
click here
facilities
Reviews on Biktot Raz
Reviews were written by visitors who stay us a guest in
Biktot Raz
Found a mistake on the pag Biktot Raz?
click here