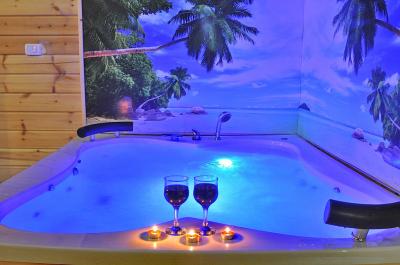 Holiday complex situated in vibrant color 7-minute drive from the shores of Lake Kinneret most beautiful and varied attractions, which offers landscaped gardens, fruit trees, pool, whirlpool spa and great care - all inspired by the South African special. New large suite with a stunning gallery floor for children, well equipped and has a private terrace overlooking the whole garden. Another suite Enjoy modern furniture and fittings, luxurious, luxurious space and solid but spectacular design and appealing to the eye. Presidential Suite guests will enjoy all along the swimming pool complex - in the form of special natural lake, indoor heated pool and well in winter and next to streams spa Jacuzzi, a pool table and plenty of rest areas and accommodation.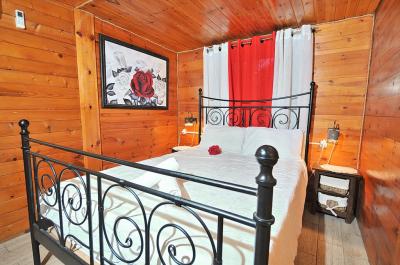 Twin Cabin acquired a name for being modular - fits perfect for couples and families also splits the cabin into a separate bedroom and living accommodation with a large sofa bed if necessary. In the bathroom the pampering you can enjoy a large Jacuzzi sunk off the floor of the cabin window and peering through fragrant citrus tree. Enjoy more cabin adjustable LCD screen, large dining area and free hot drinks. From here you can go out to the private terrace and garden Compound. The outer part of the complex that share all the suites, you can enjoy a magnificent swimming pool (heated and covered in winter) , pool Compound, hammocks and plenty of greenery.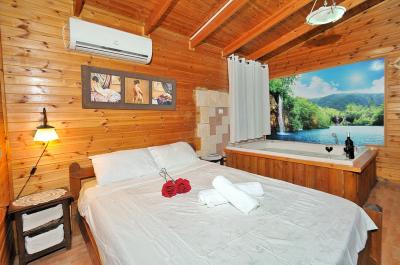 "Gan Eden cabin offers a refined interior space, and romantic - perfect for a couple and a family. The children will sleep through the living room sofa and relax yourself on a separate bedroom large double bed. Romantic hot tub available in childbirth. From here you can go to the outdoor garden terrace overlooking the pool and garden views. Here you can enjoy a magnificent pool (heated and covered in winter) and a wealth alongside luxurious seating areas, a pool table and a variety of manicured greenery. The complex is located just 5 minutes from the Kinneret and is near a variety of attractions.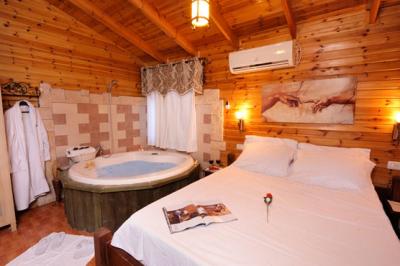 Cabin Adam and Hava hiding her from vegetation and offers spacious interiors, with a romantic Jacuzzi and an adjustable LCD screen to all parts of the cabin maximum convenience. Out there waiting for you a large private garden terrace and luxurious (covered), from which you can go to the open garden. Outdoor garden Enjoy a luxurious swimming pool (heated and covered in winter) and Jacuzzi spa pampering, pool table and spectacular vegetation that surrounds the park. The complex is located just 5 minutes drive from the shores of the Sea of Galilee and from all the attractions that are nearby.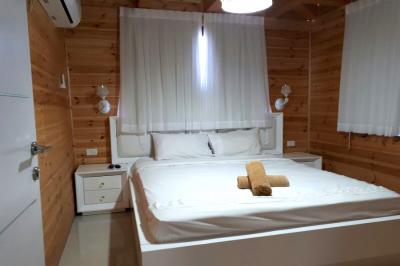 About Us
Biktot Gan Eden - מתחם נופש חלומי העטוף בטבע ירוק ושלווה מכל עבר
Dreaming of a vacation resort complex pastoral dream wrapped in a green and tranquil nature on all sides? You are invited to recognize the "Biktot Gan Eden". Against the Galilean hills, rustic atmosphere perfect, BB accommodation complex was built cabins paradise. Compound 5 luxurious cabins and a new family suite and spectacular. All units are suitable for a pleasant and pampering of couples and families.The complex offers amazing proximity to the Sea of ​​Galilee - just a 7-minute drive to the beautiful beaches and a variety of amazing attractions within the seat itself. Enjoy spectacular garden swimming pool and spectacular special built natural lake and clear (well-heated and covered in winter) and next to a huge spa Jacuzzi and plenty of accommodation areas.Hospitality complex near Enjoy the many attractions and recreational activities such as the Sea of ​​Galilee, Kayaking, Jeep, ATV, horseback riding, bike tours, hiking trails legs, fine restaurants and more.
*בחורף
In the winter, guests enjoy a heated and covered garden complex that includes the swimming pool (heated and well covered) and the luxurious Jacuzzi spa.You will also enjoy a warm, rustic indoor stay with a romantic private jacuzzi and warm winter bedding.The pool is heated in October-April.
כלול באירוח
Accommodation + bottle of wine, chocolates, seasonal fruit basket, milk, coffee, high-quality bath towels, toiletries, body lotion, shampoo, soap.
ארוחות
You can order breakfast host made rich by appointment.
חשוב לדעת
Check In: 14: 30Check Out: 11:30By prior arrangement can allow a late departure on Saturday and / or weekday.Pool operating hours:Every day, between the hours - 08: 00-20: 30Not receiving calls on a Saturday, there is a barbecue on Saturday.
Booking Conditions
click here
facilities
Reviews on Biktot Gan Eden
Reviews were written by visitors who stay us a guest in
Biktot Gan Eden
צפייה בכל חוות הדעת
Find out attractions and restaurants near Biktot Gan Eden?
click here
Found a mistake on the pag Biktot Gan Eden?
click here