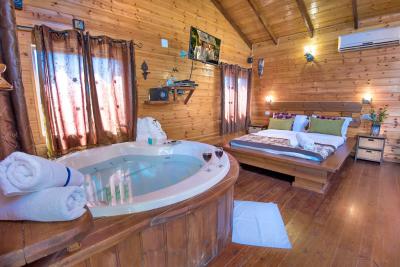 Luxurious wooden cabin, private and has a romantic and spacious design! The cabin has a double and special wooden bed and a romantic double Jacuzzi. In the outdoor area there is a private heated swimming pool. Next to the double bed on a quality wooden stage, there is a pampering round Jacuzzi and LCD TV screen with yes channels. At the separate end there is a seating area and fully equipped kitchenette with electric kettle, electric stove, toaster and more. On the way out of the cabin you will enjoy a private and magical vacation experience, comfortable seating areas, sun beds by the private pool and a fence surrounds the complex with a magnificent Galilean view.
About Us
Bikta BaGalil - פרטיות, רומנטיקה ובריכה פרטית אל מול נוף גלילי משגע!
* The pool is not heated between the dates - 1.11-1.3 *A quality and romantic indulgence in the heart of the scenic landscape of the Western Galilee. The Galilee chalet is a private and prestigious suite, immersed in a cylindrical landscape and offers couples a particularly enjoyable vacation with complete intimacy.Staying in the complex includes personal treatment for each guest. From here you can enjoy excellent access to the variety of Galilee and Mediterranean attractions.In the luxurious cabin you will enjoy perfect enjoyment in a private, heated swimming pool (the pool is not heated on 1.11-1.3), wrapped in tanning beds and a large sun umbrella. The cabin has a designed seating bar, next to the double bed there is a Jacuzzi and a TV screen. A separate sitting area and kitchenette are located at a separate end.Leaving the cabin, expect a seating area next to your private pool.
נוף מהמתחם
The pool complex, which is well fenced for your privacy, will look out at a gorgeous mountain landscape, full of pastoral and endless nature.
אטרקציות
סביב המושב תוכלו ליהנות משפע אטרקציות מעניינות, טיולי טרקטורונים, ג'יפים, רייזרים, סוסים ועוד. טיולים רגליים בין שמורות טבע, נחלים, אתריי תיירות או להתפנק באחת ממסעדות הגורמה הנמצאות באזור, לשתות איזו בירה קרה במקומות הבילוי ולקנח במסע קניות בערים הסמוכות.
כלול באירוח
A free hot drink kit, milk, a bottle of fine wine, body towels, spa shoes, toiletries, soaps and candles.
ארוחות
A fine breakfast / lunch / dinner will be served at your request.
חשוב לדעת
** Suitable for hosting a couple + 2 children.* The pool is heated from March to June, and from September to December.
Booking Conditions
click here
facilities
Reviews on Bikta BaGalil
Reviews were written by visitors who stay us a guest in
Bikta BaGalil
צפייה בכל חוות הדעת
Found a mistake on the pag Bikta BaGalil?
click here