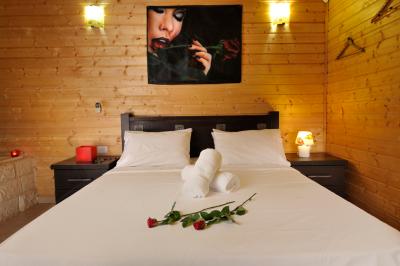 Compound peaceful and full of beauty and pastoral experience rural hospitality full of all good.Aristocracy village offers a romantic stay in 3 cabins suitable for couples and families, with a clear pool against the backdrop of the Upper Galilee. Identity and offer cabins each have private access and a private balcony luxurious, romantic décor and lots of space, luxurious accommodation area includes a luxurious double bed and a hot tub next to, which can be separated from the living room and kitchenette through wide sliding curtains. The seating area in the living room also has a sofa bed for sleeping children.
About Us
Atzulat Ha-Kfar - אגדת כפר פרטית ומרהיבה ביופייה, עם בריכה מפנקת ואווירה רומנטית
Noble and green garden welcomes visitors of the "Atzulat Ha-Kfar" amazing Moshav Elifelet seat. Here the vegetation invested pastoral and beautiful hiking trails, stand 3 cabins and large romantic couples and families, each offering luxurious private space, with a separate entrance and an outdoor garden terrace. Outside, you can enjoy clear swimming pool, luxurious accommodation and a variety of corners on special mountain landscape.Moshav Elifelet seat located only minutes away from the colony of Rosh Pina and Safed city, about 15 minutes' drive from the northern shores of the lake and near a variety of hiking trails, field trips and restaurants.
בחורף
You can enjoy a romantic hot tub heater in each suite and a walk nearby, where a variety of flowing streams and snowy Upper Galilee sites.
כלול באירוח
Accommodation + bottle of wine, , coffee / tea, , soft towels, conditioner, shampoo and soap.
ארוחות
Breakfast includes cylindrical fine selection of cheeses, salads, breads, juices and eggs made your choice, served by appointment in front of the hosts.
חשוב לדעת
* You can get a sex swing by appointment only.
Booking Conditions
click here
facilities
Reviews on Atzulat Ha-Kfar
Reviews were written by visitors who stay us a guest in
Atzulat Ha-Kfar
צפייה בכל חוות הדעת
Find out attractions and restaurants near Atzulat Ha-Kfar?
click here
Found a mistake on the pag Atzulat Ha-Kfar?
click here