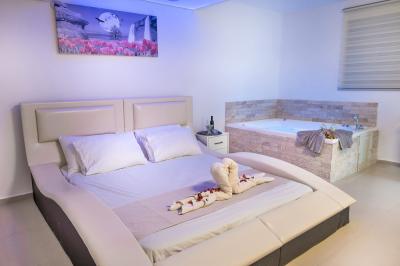 New rolls Resort and fine, with a pool and hot tub especially luxury spaDreaming of a private and pastoral place where you can enjoy along with the couple or the whole family together? Zimrey hagalil modern resort complex is particularly beautiful, offering its guests four suites, a lobby large accommodation includes many sitting areas and a lounge quality films, a vast and magnificent garden surrounded by fruit trees to harvest free, luxurious mosaic pool and whirlpool spa highest finish level. Each suite offers guests a romantic and pampering environment designed, including a new double bed and large wardrobe and a stylish bathroom. In addition, each suite and kitchenette LCD screen which you will be served wine and fruit. Access to all of the suites is separate from all authors with the exclusive lobby and exit to the garden complex, pool and spa.
About Us
Tzimery Hagalil Alma - חוויה חדשה ומרעננת עם בריכה וספא, במיקום המושלם בגליל העליון!
"Tzimery Hagalil Alma" invite you to a quiet picturesque resort new and exclusive place, where you can enjoy together with partners, friends or with the whole family.The complex is located at one of the most unique Upper Galilee - Moshav Alma, close to many hiking trails, wineries, horseback riding and ATV, nature reserves (river Gish, crows River, Lake Dalton and fertilizer sites), all accompanied by unusual landscapes.As you enter the site you will see dozens of major fruit trees you can enjoy picking them free as you wish during your vacation. Situated between the fruit trees garden complex - especially green and aesthetically pleasing, offering a huge swimming pool and a luxurious mosaic and whirlpool spa alongside a unique and covered the highest level of construction."Tzimery Hagalil Alma" four new suites and spectacular striking elegant design, each luxurious bathroom, kitchenette and respect for the rich. For guests of all suites lobby there is a magnificent accommodation, which includes luxury seating areas and LCD screen.You expect more private parking for all guests, a spacious lawn and experience exceptional hospitality.
פינוקי החורף של המתחם
"Tzimery Hagalil" located moshav Alma countryside, surrounded extraordinary wintry landscapes: forests and green hills most abundant streams and the possibility of snow in high season. You can visit sites that reside near the snow-covered and a short drive away.Visitors have enjoyed for winter construction giant whirlpool spa special, heated indoor well. Each suite has air conditioning available in addition to a new, powerful, hot drinks and luxurious feather bedding.
כלול באירוח
Accommodation + bottle of wine wineries in the area, set hot drinks and milk, fruit, large body towels, toiletries and cosmetics scented soaps.
סעודות מפוארות ליד הבריכה
You can enjoy rich and varied breakfast served to lobby the compound or the sitting areas in the garden.In addition, a large barbecue area at your disposal and professional lawn adjacent stone and huge - suitable for a family picnic and eating overlooking the pool.
חשוב לדעת
Temporary entry and exit Sunday andEntrance from 15:00 - Departure to 11:00 Saturday from 17:00 entry - exit 14:00Weekends there is a limit to a minimum of 2 nights, but 90 minutes into the first night can be booked for weekends.Other adults and childrenFor a child under 12 is charged NIS 150 a night.For older child or adult charged NIS 250 a night.For babies up to two years free of charge.You can not invite guests to a guest room without permission.You can not smoke Suites.Free Cancellation Cancellation TermsCancellation will be subject to the provisions of the Consumer Protection Act 1981 (the "Consumer Protection Law")And the regulations promulgated thereunder, after the patron has placed an order through the site's booking system.Free cancellation of this order shall be under the conditions shown in the final order formCancellation until 14 days before the guest is charged 100 NIS.Cancellation 14 to 7 days before the accommodation is charged 50% of the total order.Cancellation 1- 7 days before the accommodation is charged 100% of the reservation.Charging the customer will be determined by the complex credit card details of which will be delivered to the customer by telephone by the owner of the complex.Payment MethodsYou can pay by cash / credit card (Visa, Isracard).
Booking Conditions
click here
facilities
Reviews on Tzimery Hagalil Alma
Reviews were written by visitors who stay us a guest in
Tzimery Hagalil Alma
צפייה בכל חוות הדעת
Found a mistake on the pag Tzimery Hagalil Alma?
click here