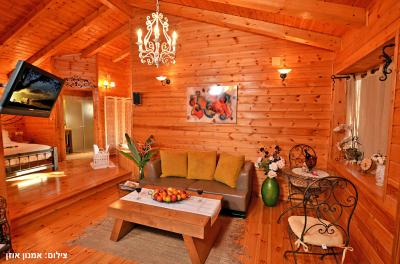 Beautiful and colorful holiday
About Us
Ahava Ve-Romantica - An amazing romantic vacation with a private heated indoor pool
Session unique levels in the first line of the Sea of ​​Galilee, invites you to the perfect vacation amenities, which includes an exit routine double and replacing hanging out entirely original and refreshing concept "on the water".Love and Romance offers 2 large cabins in a spectacular and embracing design, each with a private garden designed only for you, with an amazing private pool heated and covered overlooking the partial view spread out to her, from which you can see all the Sea of Galilee! The hospitality experience is quality and full of treats from all the best, suitable for romantic vacations of any kind, special celebrations and surprises...Ramot is considered one of the best tourist gem in the south of the Golan Heights and the Sea of ​​Galilee, where you can enjoy a variety of attractions - within walking distance from the door: horseback riding and jeep out of the seat itself, spectacular hiking trails, fine restaurants and many more.* Pools are heated from October to the end of April.
View from the complex
All of the suites overlooking the spectacular view of the Sea of Galilee, which is only 5 minutes away from the complex.While soaking in the private pool of each suite, you can see the unique breeding range, the seats in the line of the ridge and boats sailing in the lake.
Winter
The cabins are well-air conditioned, built of rustic rustic rustic wood and each chalet enjoys a private heated and covered swimming pool. In addition, the location of the complex guarantees wonderful access to a variety of spectacular views and amazing snow excursions within a short drive.
Include hosting
Accommodation only. Breakfast can be ordered for an additional fee.Each cabin expecting guests excellent bottle of wine, free hot drinks kit full of milk, coffee capsules, seasonal fruits, cookies, chocolates, bathrobes, towels, spa slippers, bathroom cosmetics, soaps, essential oils and candles.
Important Information
* Breakfast will be invited to a B & B plus free** You can combine Zimmer body treatments by a professional team. There coordinate.*** Variety of excellent restaurants and our attractions and sites in the community closest to us
Booking Conditions
click here
facilities
Reviews on Ahava Ve-Romantica
Reviews were written by visitors who stay us a guest in
Ahava Ve-Romantica
Found a mistake on the pag Ahava Ve-Romantica?
click here