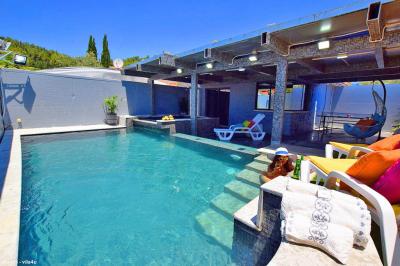 Luxury Suite spectacular modern design, with private swimming pool.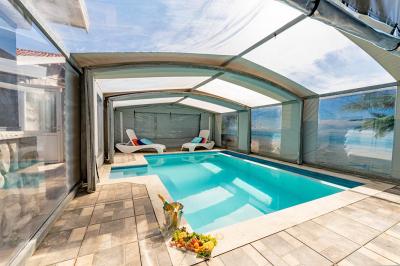 Luxurious suite in a spectacular modern design, with a private swimming pool.
About Us
Agadat Ha-Kesem - Private suites with unique design and private pool for each suite!
"Agadat ha-kesem" is located in "Hosen" on the western Galilee, is about a mile from the famous Lake Montfort.The suite invites you to experience a romantic double. Here awaits you in a private suite and charming, well-designed line of elite luxury accommodation treats rich, fancy meals, luxurious and of course private garden complex with a swimming pool of your dreams just for you. A variety of attractions and entertainment complexes are waiting for you nearby the "Moshav" is located a few minutes from "Ma'alot Tarshiha", and 15 minutes from "Nahariya."
The private outdoor area with a personal pool is heated and covered in winter
Each suite has access to a private, well maintained garden, where you will enjoy a pampering private pool (heated and covered in winter), sun beds, sitting areas and a hammock, surrounded by a fence for maximum privacy.
Winter
On cold winter days you can warm up with the pampering Jacuzzi and the private pool in the personal outdoor area with high roofing and heating.
Emphasis on the spot
excellent Breakfast will be served directly to your a suite by appointment, as well as professional massages in every choice style . Upon your arrival the place await you a variety of treats, wine, coffee, chocolate, seasonal fruit, milk, Treatment goods bathing and luxurious bathroom.  
Location
Because of the proximity of the "moshav" to "Ma'alot– Tarshiha" your will be enjoyment  continuous from full of tourist attractions and culture. You can Stroll around the cylinder, the domestic market in "Tarshiha", bike trails, horseback riding, ATV and more. A variety of cultural events, bars and restaurants Chef.  
Important Information
Maximum Guests in Suites in August Couple + 3 children.
Booking Conditions
click here
facilities
Reviews on Agadat Ha-Kesem
Reviews were written by visitors who stay us a guest in
Agadat Ha-Kesem
Found a mistake on the pag Agadat Ha-Kesem?
click here