A romantic experience in Kfar Vradim in the Western Galilee.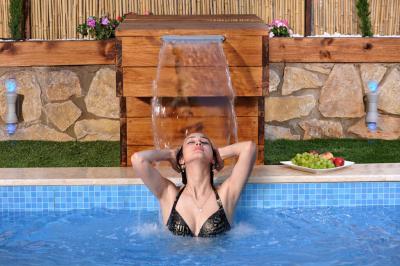 A romantic experience in Kfar Vradim in the Western Galilee.
About Us
Valdmans - Experience a luxurious and romantic
"Valdmans" suites its located in "Kfar Vradim", and located about 10 minutes from Lake Montfort and 25 minutes from "Nahariya". At the edge of "Kfar Vradim"  in a breathtaking landscape were built two luxurious suites offer complete privacy and very romantic resort for couples looking for innovation, privacy, and rich hospitality treats. Complete the guest experience discreet suites are located separately from each other and offer a heated pool(between October and April). , landscaped garden compound and luxury seating design. The "Valdemans" suites were built gradually on the hillside and were built on various levels - upper and lower. On the middle level between the two luxurious suites, the owners live.There are a variety of nearby wineries, dairies, markets, bars and attractions and family area.Location suites surrounded by rich nature and green.
In suite
Suitable for couples and suites offer ample romance and intimacy. You can enjoy channels YES, espresso machine, a fully equipped kitchenette and a large indoor Jacuzzi.The suites are located separately from each other and offer their guests a rich and indulgent bar, use of quality furniture and a private garden area for each suite, including a pampering heated pool (from October to April).
Winter
The Dream Suite has a swimming pool and a 32-degree heated waterfall and an electric fireplace for a perfect winter treat.The Garden Suite - a heated indoor swimming pool, spa Jacuzzi with 5 seats for different massages that reaches 40 degrees heat and inside the suite are very pleasant underfloor heating.* The pools are heated between October and April.
Emphasis on the spot
In each of the suites you will enjoy from total privacy, a new BBQ area, rich and luxurious breakfasts by appointment and professional spa treatments. In addition, Efrat the landlady will be happy to spoil you with chocolates, a bottle of wine, seasonal fruits, cookies, beer, energy drinks, drinking bottles, milk and a variety of other treats and and stand by your side to make perfect accommodation experience.
Location
A rich and pampering Galilean breakfast, with an additional payment of 130 NIS per couple.
Important Information
Booking Conditions
click here
facilities
Reviews on Valdmans
Reviews were written by visitors who stay us a guest in
Valdmans
Found a mistake on the pag Valdmans?
click here