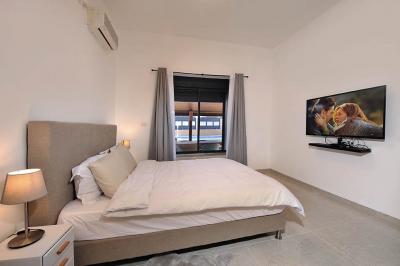 A dream villa with a private swimming pool and a spa Jacuzzi
About Us
Shir House - New villa with private swimming pool
* New New New - Opens in August 2021 * Shir House - Shir House is a private complex with a modern and luxurious villa, the villa is located in the prestigious and quiet Moshav Ben Ami. The luxurious villa is suitable for groups of up to 6 adults in three newly designed bedrooms.In the yard you will find a luxurious private swimming pool, a large spa Jacuzzi and more. Moshav Ben Ami in the Western Galilee, near the city of Nahariya, close to the best tourist sites, including Rosh Hanikra, Lake Monfort, the Baha'i Gardens, Old Acre ... and a short drive of up to 5 minutes you can enjoy its beautiful beaches and spectacular Achziv beaches.In addition, you can enjoy pampering attractions for adults, including off-road attractions: jeeps, ATVs, horseback riding and more.
The villa
Luxurious and luxurious villa, brand new with three double bedrooms.In the villa you will also find two bathrooms (one of which is inside the master bedroom), and another central one. In the invested villa, a central space in which a large living room is decorated in shades of cream and decorative pillows are placed on it, above it are high windows overlooking the blue sky.Fully equipped kitchen with large refrigerator, baking oven, stove, microwave, Tami 4, cooker hood, dishwasher, coffee maker with Nespresso frother, toaster, heater and Shabbat hotplate.Next to the kitchen is a large dining area - suitable for 6 adults.Each bedroom has a luxurious bed, a TV with a state-of-the-art LCD screen and streamer, Wi-Fi and of course air conditioning.
Outside area
In the outdoor area you will find a swimming pool (unheated), next to it sun beds and seating areas, a barbecue stand and an outdoor dining area.You will also find a pampering spa jacuzzi (in a covered outdoor area). The complex is completely private and surrounded by a fence.
Winter
You can always enjoy a well-heated personal Jacuzzi, luxury duvets and sweet treats.
Included in accommodation
A bottle of fine wine, milk, coffee capsules, coffee / tea set, soft bathrobes, quality bath towels, face and hand towels, spa shoes, toiletries, soaps, scented oils and candles.
Additional charge
In coordination with the hosts, you will be served a rich and invested breakfast. Professional body and mind treatments by certified masseurs can be booked in advance directly to you.In addition, you can enjoy quality chef meals that are served directly to you or choose the chef-to-home method - in which the meal is presented before your eyes at a perfect rate of dish after dish, according to the menu you choose.
Booking Conditions
click here
facilities
Reviews on Shir House
Reviews were written by visitors who stay us a guest in
Shir House
Found a mistake on the pag Shir House?
click here