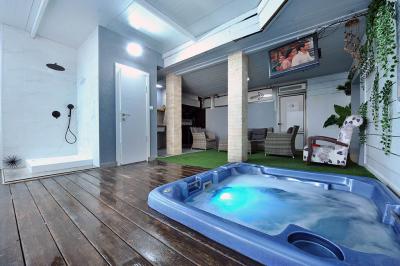 About Us
Hadavar Ha'amiti - About us
The ""Hadavar Ha'amiti"" is located in Moshav Ein Yaakov, located in the Western Galilee, right in the heart of the forests of the Galilee, a short drive from Achziv beaches and close to many attractions in the north.The entire complex is designed in a special style of stones and wood and is divided into two floors:On the lower level is the luxurious villa, with 4 fully equipped bedrooms, 2 bathrooms, a large living room and a large and well equipped kitchen.On the top floor are two luxurious suites, made of a romantic wooden structure with a separate entrance.
Interior view
The owners of the complex made sure to equip the villa with everything necessary to the smallest private, in order to make your stay pleasant without having to leave the villa for a second!The villa has a spacious interior, 4 double bedrooms with a large bed and a cable LCD screen, a living room with a large corner sofa, a shower, two toilets and a large and equipped kitchen where you can cook anything you want, , An espresso machine, dishes and more.The pampering suites feature a double bed, an LCD TV with HOT channels, a fully equipped kitchenette including a professional espresso machine, a round double Jacuzzi, an upgraded bathroom and an exit door leading to our pampering winter area.A pampering and impressive outdoor areaIn the magnificent outdoor area of ​​the place you will enjoy a magnificent heated swimming pool and Jacuzzi, a huge spa covered with fungus, a warm mushroom for a pleasant atmosphere, hammocks, sitting areas, a large dining table and a professional BBQ corner.In the courtyard you will enjoy a wide lawn, hammocks, wooden swings, comfortable couches, a pleasant sun terrace, a special fish pond made of stone and special accessories and shaded corners under the sun.
Emphasis on the spot
Upon arrival there will be a host of treats such as; Champagne, chocolates, snacks, milk, coffee and more.If you are celebrating a special event we will be happy to decorate the place for you.You can enjoy pampering and rich meals in advance. A variety of body and soul massage styles are available to book upon arrival.For the religious public - there is a hot plate and hot water for Shabbat, a synagogue nearby and there is flexibility to leave on Saturday night from the suite.
Location
Ein Yaakov is one of the key seats in the Western Galilee.In the immediate area can be enjoyed hiking, horseback riding or bike tours Riizrim, ATVs, jeeps, etc., you can indulge in gourmet restaurants, tourist attractions and a variety of attractions for couples and children.The suite is surrounded by green landscapes and caraway pastoral and pleasant atmosphere.
Important Information
* On weekends, July and August holidays, the complex is fully leased for up to 20 people and not in isolated units.
Booking Conditions
click here
facilities
Reviews on Hadavar Ha'amiti
Reviews were written by visitors who stay us a guest in
Hadavar Ha'amiti
Found a mistake on the pag Hadavar Ha'amiti?
click here