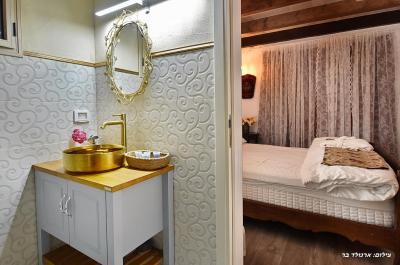 Luxurious mansion with two double bedrooms and a gallery floor
About Us
The Rose Estate - A large mansion for families and couples with a heated indoor pool and an outdoor spa Jacuzzi
In Moshav Ein Yaakov in the Western Galilee - between mountains and valleys and with a magical and dreamy view towards the Green Galilee, you will find the magical "Ahuzat Hashoshanim".The mansion is built as one large and common space, with a main entrance - the mansion has two wonderfully enchanting double bedrooms, each with a private bathroom - and a shared gallery floor for children.The complex lovingly accepts groups, families or couples for particularly pampering and enjoyable hospitality.In the vicinity of the complex you will find a synagogue, playgrounds and playgrounds, a grocery store and more.The complex has a large and pleasant swimming pool, heated and covered during the winter months, play facilities for children and of course - an outdoor spa Jacuzzi for 5 people.
the interior of the unite
The interior space is built as one large and spacious unit - yet also very private.In the central space, a large and well-designed living room - with comfortable armchairs decorated with roses, cushions, and curtains in a spectacular vintage style. With gray wood parquet flooring, a solid wood tea table, and furniture that will make your atmosphere both dreamy and rustic.In the large sitting room you will also meet a smart TV connected to YES cables, and of course wireless internet throughout the complex.You will also find a fully equipped kitchen that is also designed in line with the living room - decorated and equipped with romantic roses. The kitchen is equipped with everything you need to prepare a dream meal - from a large refrigerator, microwave, stove and oven, etc. Next to the kitchen is a large dining area where you can sit.The mansion has two completely private double bedrooms with a particularly luxurious double bed - offered in quality and comfortable bedding, of course with an LCD TV connected to YES channels - with a personal air conditioner in each bedroom and windows hidden by curtains decorated with roses.For each bedroom - a private bathroom with a quality shower, toilet, with a gilded and decorated sink and faucet. There you will also find soft towels, quality bathrobes, and toiletries - soaps, etc.The mansion has a large and dreamy gallery floor - paved with light wood parquet - an extra large space with a smart TV connected to cables, and accommodation for children (up to six children) - from there there will also be a view of the main living room of the mansion.
garden
In the large and private outdoor area of ​​the mansion you will find a large seating area where you can eat, next to it you will find a neat barbecue stand with a sink and a preparation area - with cabinets for storage.Adjacent is the pampering pool of the complex - heated and covered in the winter months and fenced for all seasons - great for families with children. The pool is built gradually - so that in the area from which you enter the pool, the water becomes shallower and deeper and deeper.Next to the pool stands a boiling and pampering spa Jacuzzi with seating for at least five people at a time.
Included in accommodation
In the complex will be waiting for you:Towels and bathrobes, soaps and cosmetics for your use, quality wine, milk, fresh eggs from the farm, seasonal fruits, and more.By prior arrangement and at an additional cost, you can order sumptuous and nutritious breakfasts for the complex.
attractions
Moshav Ein Yaakov is located in the heart of many attractions and romantic restaurants, ATV rides, and jeeps, horseback riding, spectacular hiking trails, colorful markets, shopping and entertainment centers and more. At your disposal is a synagogue close to the compound. The hosts can be consulted regarding the recommended places in the area.
Booking Conditions
click here
facilities
Reviews on The Rose Estate
Reviews were written by visitors who stay us a guest in
The Rose Estate
Found a mistake on the pag The Rose Estate?
click here