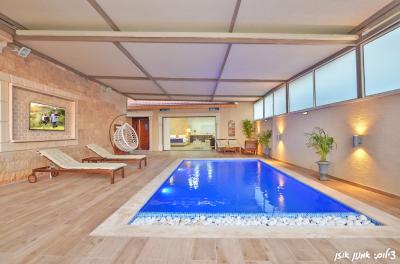 About Us
Sagol - A private boutique suite - pampering beyond imagination!
Looking for a place where you can indulge in a whirlpool Spa sparkling and enjoy a magnificent panoramic Galilee panoramic view? Do you want a luxurious suite in a luxurious design with full privacy and luxurious facilities? No need to dream anymore - the reality in a Segoul suite is your dream!Moshav Ein Yaakov, located in the heart of the Western Galilee, has created a spectacular boutique suite with a luxurious design, spacious and exceptionally private, with precise and innovative equipment and a luxurious romantic atmosphere.
View from the compound
In the outdoor area you can enjoy views of the mountains and Galilee forests directly from the point where the luxurious spa jacuzzi is located.
Interior view
Luxurious luxury suite, rich design, majestic furnishings and an intimate and couples atmosphere.In the spacious suite you will enjoy a luxurious double bed, an innovative LCD screen with SMART TV technology, a large fully equipped kitchen, a royal sitting area, a double bathroom with a double sink, a double rain shower head and a separate well-equipped children's room.In the private outdoor area you will enjoy a heated swimming pool (heated and covered in winter) with mosaic floor and pebbles, sunbeds, LCD screen, seating areas, barbecue area with a work sink and Jacuzzi.
Include hosting
A bottle of fine wine, capsules, milk, crispy cookies, fine chocolates, a seasonal fruit basket, spa shoes and fragrant soaps.MassagesFor a surcharge you can enjoy pampering spa treatments by the pool or in the suite's courtyard.
Meals
In advance you can enjoy a rich and luxurious breakfast and various chef meals served directly to the suite.
Booking Conditions
click here
facilities
Reviews on Sagol
Reviews were written by visitors who stay us a guest in
Sagol
Found a mistake on the pag Sagol?
click here