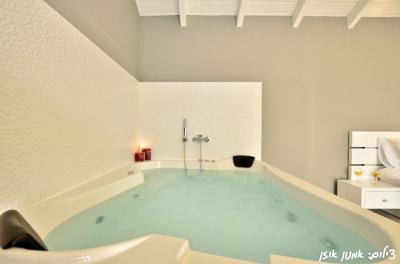 About Us
Ahuzat Salerno - About us
"Mansion Salerno" in Moshav Goren offers you 3 luxurious suites, decorated and most importantly, completely private! Each suite features a design in white with touches of red to illustrate a sense of passion and love dispersed in the air, a huge Jacuzzi and private swimming pool is Heated from April to October .The moshav is located in the western Galilee attractions, due to its strategic location, a wide range of outdoor activities, culture and leisure interesting and fun.
The suites
The luxurious suites of the estate boast a private and romantic complex for each, but before that, they also have something to offer in their luxurious interior.Each of the three suites is decorated in white colors with delicate touches of the hottest and most passionate color - the red color. A large and luxurious double bed awaits you in a suite with soft and white bed linen. Next to it stands the large Jacuzzi where you can indulge constantly. Each suite has a children's room with 2 single beds, an elegant bathroom with a rain shower head, A professional espresso machine, an adjacent dining bar and a huge sliding window overlooking the private and invested private area.In the private area you will enjoy a huge lawn, green and well maintained, rich and luxurious garden furniture, a barbecue corner, pleasant night lighting, elegant and comfortable seating areas, a swing and of course the cherry on the cake - a private swimming pool wrapped in a white fence for maximum privacy, the pool is heated from October to April, Sun beds and umbrellas are scattered.
Emphasis on the spot
By appointment you can indulge in breakfast and dinner to your doorstep.In addition, treatments and massages for body and soul are distance phone call to order early.Zimmer can arrange various events.The suite will be waiting for you Fnokim like a fine wine, seasonal fruit, chocolates, cosmetics and toiletries.The hosts will be happy to advise you on excursions, cultural venues and various attractions in the area.
Location
Near the estate you will find a variety of diverse attractions to suit any type of holiday that you choose, from horseback riding, Riizrim, jeeps, ATVs and ending in tourism and gourmet restaurants.
Important Information
*The religious community of the synagogue are nearby and can provide a Plata and samovar Saturday.* Private swimming pool for each suite, heated from April to October.
Booking Conditions
click here
facilities
Reviews on Ahuzat Salerno
Reviews were written by visitors who stay us a guest in
Ahuzat Salerno
Found a mistake on the pag Ahuzat Salerno ?
click here