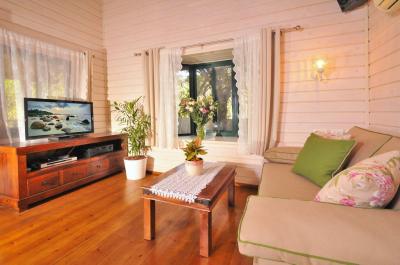 About Us
Batay HaHalomot shel mishpahat Peleg - About us
Within a charming Galilean grove you will find three accommodation units, each located in its own corner, quiet, isolated and private. Among the huts are fruit trees and flowers, flowers and seating areas. We welcome the guests with great love, and enjoy sharing the treasure we have.Moshav Amirim is unique - vegetarian and vegan, so you can enjoy a different hospitality experience. In addition, you can enrich your vacation experience by adding a pampering massage or taking part in a unique home workshop, which provides tranquility and natural connection through nature.Our entire family takes care of the hospitality complex together. The children also enjoy receiving our guests and respect them for the various flavors that grow in the yard. Sara and Yossi are the heads of the Peleg family, who established their "Little God Corner" over 40 years ago, and thanks to them all are here. Ofir, one of the sons of Sarah and Yossi, his wife Janet and the children share the house and the yard. We are a team, and everyone takes part in what they love and good at. Usually Sarah and Janet greet the guests.We are located close to the center of the settlement, but in a quiet corner, overlooking the green mountains. In 3 minutes walk you can reach Mitzpeh Kinneret, overlooking the amazing view towards the Sea of ​​Galilee and the Golan Heights. In the summer, open concerts are held in nature, on Fridays in the afternoon, for the Sabbath in light of the sunset and the dream landscape of the Sea of ​​Galilee. A few minutes' walk away are the convenience store and the main amusement park. The village's swimming pool, which is open in the summer, is also nearby (the entrance is free of charge), and next to it is a charming forest path "the hidden path".we will be glad to host you,The Peleg family
Interior view
Suite dreams hidden in Horsii large trees and wrapped in a pastoral gorgeous, subtle colors decorated suites and incorporates lots of wooden items lap factors you connect to nature from the window.In the complex private suite and enjoy the beautiful natural plow, shaded seating areas scattered in the enchanted garden, private deck with seating and a huge tree trunk that extends to the slim balcony interrupts the charming authenticity.Dream Cabin also stands between the plow and pretty green and juicy fruit, cottage decorated simply yet receives upgrades and interior luxuries you did not expect.The place is suitable for two children and built using Open space filled with potted green and landscaped and has large windows that give the feeling that nature came through the window and the atmosphere relaxed and calm.The Sanada is the unit's unique rural place. Double unit stands at the corner space in front of her large stone fireplace warms the cold winter days, an intimate seating area sunlit enters through the window and balcony adjoining private sitting under trees plowers.
Attractions
Amirim is located in the heart of the Galilee. Links with detail options are sent to our guests when booking.
Include hosting
In all the guest rooms you will receive a bottle of wine, mineral water and milk, fruit juice, nuts, tea / coffee, seasonal fruit, cornflakes, granola and other good things.We provide caressing towels and a set of ecological soaps (bath soap, shampoo and conditioner).A espresso machine with capsules, dressing gowns and a hairdryer is available in the suite and in the cabin.There is a possibility, upon request, to prepare the Zimmer for a special event in a standard design.Visitors to the complex are allowed free entrance to the community pool.Discount vouchers, board games, magazines, a wide film library and assistance in planning the resort are available.
Additional charge
As you wish, you can order a rich and luxurious breakfast, go out to eat in one of the restaurants or order a varied chef's meal at different times of the day.Massage treatments are pampering with professional massages, or participation in a couple workshop.Amirim has a variety of attractions such as galleries, lookouts and hiking trails in the forest, jeep tours and more.
Important Information
Moshav Amirim is a moshav that advocates vegetarianism and vegetarianism. Guests are requested to respect the lifestyle of the moshav and not bring any meat or fish products with them. Also there are no smokers in the bed and breakfasts. You can smoke on the balcony.for children:A baby coop, a dining chair and mattresses are available.For the religious public:The restaurant is located nearby (about 15 minutes walk), Shabbat time (in the suite and in the cabin) and you can provide a Shabbat platter, a dish and one-time ecological tools.
Booking Conditions
click here
facilities
Reviews on Batay HaHalomot shel mishpahat Peleg
Reviews were written by visitors who stay us a guest in
Batay HaHalomot shel mishpahat Peleg
Found a mistake on the pag Batay HaHalomot shel mishpahat Peleg?
click here