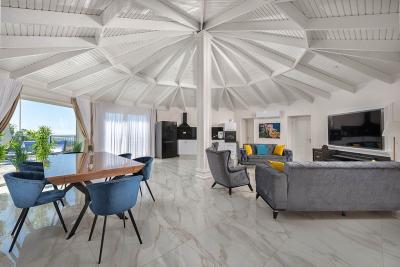 About Us
milagros - A private and luxurious suite in the heart of the Galilee!
With the highest level of finish and the highest quality, with modern design and elegant and extremely comfortable furniture -Brand new suite "Milgros Boutique" - opened in June 2020 - a private and luxurious family.With three double bedrooms, a private heated pool, a spa Jacuzzi and a dreamy view of the Western Galilee and the Mediterranean Sea.Plenty of activities just a few minutes drive: Rosh Hanikra, Monfort Lake, Yehiam Fortress, Baha'i Gardens, shopping and entertainment complexes, a variety of restaurants and cafes, beaches within 15 minutes drive, horseback riding, jeep tours, ATVs, razors, trails Walking in nature and more.
Milgros Boutique Estate
The new and fully equipped mansion, with three very large double bedrooms about 25 square meters each room.KING SIZE double bed, each bedroom has a private bathroom with a modern shower, and a private toilet, where you will find soft and cozy towels, toiletries, and more.The luxurious mansion has a large living room of 100 sqm - with specially designed sofas made in Italy, watching a 75 "LCD TV and a sound projector. (Sony PlayStation is available with a variety of games by prior arrangement). Next to them is an extra large solid wood dining table suitable for at least 8 people, a fully equipped kitchen - with a very large refrigerator, microwave, water bar, Nespresso machine and capsules, cooker hood, electric stove and more.In the outdoor area:You will find a completely indoor and heated private pool. Next to it is a large spa Jacuzzi suitable for 6 people and up to 40 degrees.In the outdoor area you will find many designed and comfortable seating areas, sun beds, barbecue area, ping pong table, table football and all this in front of the stunning view of the Western Galilee and the Mediterranean Sea.
Winter
Cielo offers its guests enjoy a private compound is heated in winter and spectacular - when the park is closed and well guarded from the weather and includes a pool, spa and seating areas.In addition to romantic hot tub available and bedside heater, free hot drinks and luxurious feather bedding.
Include hosting
Accommodation + bottle of wine, chocolates, seasonal fruit, coffee / tea and coffee pods for the espresso machine, fluffy bathrobes, spa slippers, face and body towels, bathing cosmetics and soaps, caps and shower caps.In addition, you can enjoy a variety of vacation upgrades - by prior arrangement with the owner of the complex:Event design for the event:At the Milgros mansion you can make a wide variety of decorations and upgrades for the perfect event. There is our basic package which includes: 20 balloons scattered on the floor cake with a personal caption A quality white / red wine bottle to choose from.Personal design of balloons:You can order a design in the resort complex in person in a wide variety of options such as: where the event is celebrated, number and additional decorations of your choice.We tailor the perfect package for you according to your request and the requested costs.Private Chef:You can order a chef's meal, food workshops and a wide range of other culinary things. The cooking is done on site and provides a culinary experience at the highest level. The menu is built according to the customer's request including special requests.Massages:A wide range of massages can be booked by professional masseurs who come to the suite and provide a perfect experience of relaxation and serenity. The massage lasts about 45 minutes.It is mandatory to emphasize at the time of booking if there are any unusual things that should be noted when booking the massage.Pre-arrangement must be made about 3 days before the booking date.
Meals
In addition, the suite offers exquisite culinary pampering includes breakfast / lunch / dinner of your choice, made by the host - chef and restaurateur by profession.
Important Information
* Large indoor swimming pool heated by 3 X 8 meters. The pool meets the most stringent safety standard including fencing to prevent children from entering unattended.* Large spa Jacuzzi for 6 people reaching a temperature of 40 degrees.* Ping pong table and table football table.* Garden seating system designed and sun beds.* Completely isolated and private compound with no additional units nearby. The complex covers an area of ​​about 500 square meters in complete privacy.* Private parking for vehicles including a gate controlled by the customer.* Barbecue corner designed from stone.* 3 large bedrooms with en-suite shower and toilet for each room.* Can accommodate up to 6 adults and 9 children (we provide high quality folding beds as needed).* Living room made in Italy with a high level of finish, 75-inch TV and a sound projector from the JBL company.* Fully equipped kitchen that includes: large refrigerator, oven, always 4, Nespresso machine, hob for cooking and drawers for storage.* Solid wood dining area located next to a panoramic display window overlooking a swimming pool and the Mediterranean Sea.
Booking Conditions
click here
facilities
Reviews on milagros
Reviews were written by visitors who stay us a guest in
milagros
Found a mistake on the pag milagros ?
click here