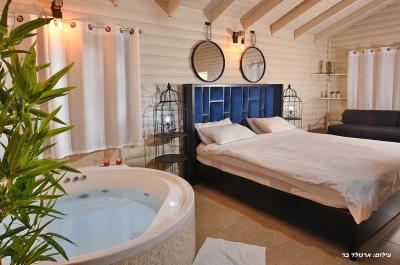 2 luxurious and spacious wooden cabins with a private Jacuzzi for each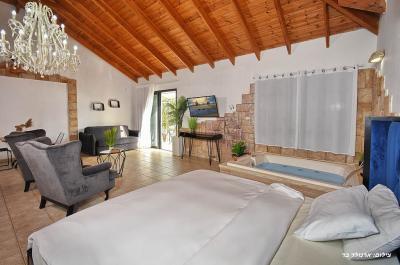 Spacious suite designed in clean and solid lines, with a pampering private Jacuzzi.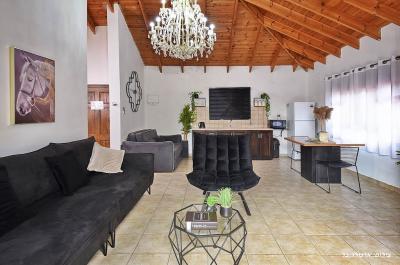 Fully equipped suite with private bedroom and internal jacuzzi
About Us
view to the forest - A pampering holiday complex with four pleasant units in a great location!
4 magical and luxurious accommodation units located in Moshav Birya in the Upper Galilee and located near a variety of attractions and many tourist places.In the place you will enjoy 2 rustic and cozy wooden cabins and 2 romantic suites - Diamond Suite, and Sapir Suite are well equipped and very well maintained with an impressive design that radiates luxury and warmth together.In each unit you will enjoy a comfortable double bed, a large Jacuzzi standing in the corner of the unit, comfortable armchairs in front of an LCD screen with connection to HOT channels, a well-equipped kitchenette with stove, electric kettle, microwave, refrigerator and cooking and serving utensils. In each accommodation unit you will find an elegant and well-kept bathroom with a toilet and shower.
The pampering units
The four units in the complex are divided into two cabins, and 2 suites:The cabins: Two spacious and warm wooden cabins built as a studio - an open and spacious space with in the center of each cabin an elegant and comfortable double bed, wrapped in high-quality and soft white bedding. Next to the bed you will find a double seating area with designed armchairs, next to a comfortable coffee table. Design elements surround the cabin - with the help of ornamental flower pots, designed bedside tables, mirrors and more.Nearby you will find a luxurious corner Jacuzzi with a window overlooking the view - with a white curtain for increased privacy.You will also find a comfortable seating area, and an LCD TV connected to HOT cables. Each cabin has a fully equipped kitchenette, with tea, coffee kettle, microwave and minibar.In addition to the bathroom you will find a toilet, a comfortable shower, and a dresser with toiletries, towels and cosmetics for your enjoyment.The cabins are air conditioned and cozy, and there is Wi-Fi in the complex for your enjoyment.
The outdoor complex is separate into suites and cabins
The complex has 2 separate outdoor areas, well-kept, tidy and well-equipped.The outdoor area of ​​the suites includes a luxurious swimming pool (heated and covered in winter), comfortable hammocks, seating areas, sun beds scattered around and a special and especially luxurious "princess" recliner.The outdoor area of ​​the cabins includes a well-kept swimming pool (heated and covered in winter), rich and well-kept vegetation, beautiful stone paths, rich and special garden furniture, wooden swing, special "princess" recliner, large dining table with 6 seats, jumping trampoline, ping table Pong, table football and a snooker table to pass the time with fun and a comprehensive bamboo fence to give a sense of privacy.
Repas et massages
By appointment and payment you can order* Rich and varied breakfast.* Professional treatments and massages.
Location
Moshav Biriya is surrounded by many attractions, attractions and hiking trails.You can take a walk in the famous Biriya Forest, visit the alleys of Old Safed or the Rosh Pina settlement, ride horses on a nearby farm, go on ATV tracks, jeeps, walk on hiking trails and many other attractions.
Important Information
Booking Conditions
click here
facilities
Reviews on view to the forest
Reviews were written by visitors who stay us a guest in
view to the forest
Found a mistake on the pag view to the forest ?
click here