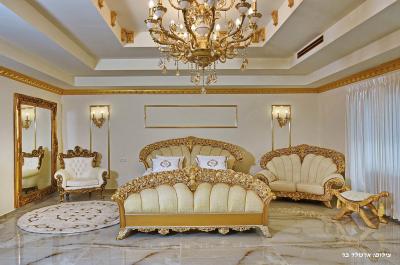 Dream suite for couples only - glittering golden and full of treats
About Us
Gold Rich - Luxury Suite - Luxury and pampering in a gilded suite and a dreamy swimming pool
* New New New-September 2021 * At the end of the Western Galilee, in front of an enchanting open landscape, is Moshav Ibn Menachem, where you will also find the prestigious "Gold Rich" dream suite.The private and luxurious suite is for a couple only, lush and glamorous, with extra pampering, and extra experiences.Accommodation in the suite includes a rich and nutritious double breakfast with a variety of good and delicious treats.In the completely private complex you will find a luxurious swimming pool, heated and overlooking a beautiful mountain view. Even Menachem is a short drive from the most equal sites in the Galilee, including the Rainbow Cave, Yehiam Fortress, the Baha'i Gardens, Rosh Hanikra and Achziv beaches, in addition you will find a variety of pampering attractions for couples, equal restaurants, hiking trails, and more.
The luxurious suite
The magnificent and elegant "Gold Rich" complex has a single luxury suite, completely private, special and dreamy to a particularly high standard.The entire suite is decorated in glittering gold, the sides of the bed, the armchairs, accessories, taps and more ... hence its name - "Gold-Rich" - rich in gold.In the center of the suite is an elegant bed made of gold, king-size with a quality mattress and decorated bedding that is especially pleasant to the touch.Opposite the bed is the main living room with designed armchairs and sofas, and a large TV screen connected to HOT cables, and Wi-Fi.The suite has a fully equipped kitchen, with a large refrigerator, oven, stove, microwave, coffee maker and more. The luxurious bathroom has a special bath, a standing shower, a gold toilet, and a clean and beautiful double double marble sink, with accessories and gold faucets of the highest standard, where you will also find bathrobes, quality towels and fragrant toiletries.The suite is lit up with special chandeliers, with golden strands that seem to have come out of the legends. The highlight of the suite is the Turkish bath that awaits you there, a true tradition, with extensive marble countertops for massages and couples treatments. To be in the country and to feel in the sand.
The outside area
As you exit the sparkling suite you will discover an equally sparkling area, a huge terrace (200 meters) overlooking a dreamy and peaceful mountain view, full of indulgences and elements that will make your couple's vacation especially magical.In the outdoor complex, a beautiful, invested, luxurious and spacious swimming pool awaits you, heated and decorated to the highest standard, with a fountain, special mosaic flooring, and a marble delineation in cream shades that blends in with the suite shades.Around the pool are many special ornamental pots, sun beds and royal seating areas, with similar ones next to them.In front of the pool, there is a magical, hot and pampering spa Jacuzzi that is especially wide.In addition, on the dream terrace you will find many comfortable seating areas, a round dining area - where you will also be served the pampering and nutritious breakfast, which includes all the particularly rich goodies.
Included in accommodation
A pampering breakfast, especially nutritious and rich in every good.In the suite you will find quality towels, fluffy bathrobes, spa shoes, fragrant bath cosmetics, soaps and more.In the kitchen you can enjoy quality wine, milk and capsules for the coffee machine, good chocolates and seasonal fruits. Also pampering treatments and an original Turkish bath, massages and chef's meals can be reserved at an additional cost.
Important Information
The complex is suitable for couples only - 2 people maximum
Booking Conditions
click here
facilities
Reviews on Gold Rich - Luxury Suite
Reviews were written by visitors who stay us a guest in
Gold Rich - Luxury Suite