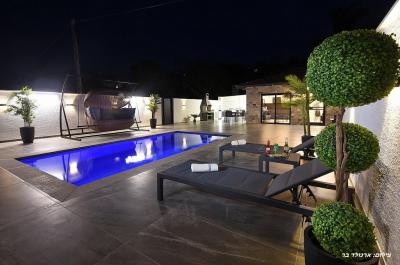 About Us
fabraje - אירוח יוקרתי בסוויטה פרטית וחדשה בעין יעקב
בישוב עין יעקב המבוקש הוקמה סוויטת אירוח חדשה פרטית ויחידה בשם "פברז'ה" במרץ 2022. יוקרתית וייחודית כשמה, בעיצוב קלאסי ברמה גבוה, מאובזרת לחלוטין, מתאימה לאירוח זוגות או משפחות עד 6 נפשות.המתחם משתרע על שטח של כ200 מ"ר מלא בפינוקים ומתקנים להנאה צרופה. הסוויטה מתפארת בחלל מרכזי מרווח, ובו סלון ומטבח מאובזר בכל מה שתצטרכו, שני חדרי שינה גדולים זוגיים, וחדר רחצה מרכזי. למתחם מטבח חיצוני, ג'קוזי ספא שקוע, ובריכת שחיה מפנקת במיוחד (מחוממת ומקורה בחודשי החורף). בסביבת המתחם עין יעקב תמצאו שפע של אטרקציות ומקומות בילוי, החל ממסלולי טיולי רבים, טיולי סוסים, ג'יפים וטרקטורונים, במרחק של 10 דקות לנהריה, שם נמצאים חופי ים קסומים, מסעדות, פאבים, וקניונים.
The suite
The designed and private guest suite, built and designed to a high standard, with the highest level of equipment.In the main entrance space you will find a large and spacious living room, in black and a luxurious and unique design, with designed coffee tables and classic flooring in front of an extra large and smart TV (75 "), connected to HOT cables, Netflix, and wireless internet.The kitchen is equipped with black cabinets, a large refrigerator, an oven, a coffee and tea corner, an espresso machine, and quality capsules, and a water bar.Next to it is a dining area for four in black that matches the overall design of the new suite. The suite has two double bedrooms, in the center of each of which stands a wide double bed offered soft and comfortable bedding. With state-of-the-art TV connected to HOT Netflix cables, and wireless internet.The aesthetic and modern, classic bathroom with tiles that match the luxurious flooring, a classic double glass shower, black sanitary ware, a dresser with a closet with soft, high-quality towels and fragrant bath cosmetics.
The private outdoor area of the suite
The pampering and private complex covers an area of about 200 square meters, which leaves a large and magnificent courtyard. Equipped with every good.In the center of the courtyard stands a sunken and heated indoor pool during the winter months, with a sunken spa Jacuzzi next to it that also complements the length.By the pool there are sun beds, seating areas, hammocks and swings.With a neat barbecue area and a fully equipped outdoor kitchen, with a tidy work surface, a sink for maximum comfort, cabinets and drawers for storage, a refrigerator, a wine oven and more.Next to the outdoor kitchen is a large and spacious dining area.The yard is designed and equipped with night lighting, and ornamental trees and pots.
כלול באירוח
בהגעתכם למתחם יחכו לכם בסוויטה הפרטית יין איכותי, חלב , קפסולות למכונת האספרסו, שוקולדים, חטיפים, עוגיות ופירות העונה.בחדר הרחצה יחכו לכם תמרוקי רחצה איכותיים, סבונים, מגבות רכות וחלוקי רחצה. בתיאום מראש ותשלום נוסף: תוכלו להתפנק מעיסוי זוגי/יחיד.להינות מארוחת בוקר עשירה ומגוונת או מארוחת שף מפנקת ומקורית.
Booking Conditions
click here
facilities
Reviews on fabraje
Reviews were written by visitors who stay us a guest in
fabraje
Found a mistake on the pag fabraje?
click here