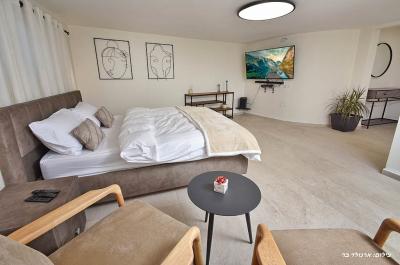 Pampering for couples or families up to 4 people
About Us
Chardonnay - Luxurious suite with private pool and stunning design
"Chardonnay" Suite - * brand new January 2022 * is located in the quiet and pastoral Moshav Ein Yaakov and offers a luxurious and quality vacation with everything you need for an especially amazing vacation.In the pampering resort complex there is one suite, private and secluded that will give you a perfect sense of privacy .. In the courtyard of the complex is a heated swimming pool and a hot spa Jacuzzi.Moshav Ein Yaakov is close to many attractions, hiking and walking trails, horseback riding, ATVs and good restaurants in abundance!
Interior of the suite
The pampering complex is suitable for couples or families up to 4 people. The suite is built as a large and open space with a large and luxurious double bed in the center, designed and offered quality and soft bedding, in front of which hangs a modern TV connected to HOT cables. Next to the bed is a seating area with two luxurious and wide armchairs in shades of cream with a small coffee table.With many special accessories and a modern and classic design in warm shades of white, cream and brown, luxurious marble flooring and matching furniture.The suite has a fully equipped kitchenette with a refrigerator, microwave, coffee and tea set, high-quality coffee machine and capsules. Next to the kitchenette you will find a comfortable dining area for four.The bathroom has a toilet, a standing shower, a sink designed with a storage closet. There you will also find soft, high-quality towels, bathrobes and other cosmetics.* In addition, there is a secondary (separate) unit, with a pleasant and high-quality double bed, with TV and air conditioning. It can accommodate 2 more vacationers.The main suite can accommodate a couple, the adjoining unit can accommodate two more people.(Shared bathroom)
Outside area
The outside area of the suite is private and extra large, with a comfortable seating area for 4 consisting of a table and comfortable armchairs.In the center of the courtyard is a pleasant heated indoor swimming pool in the winter months, next to it comfortable sun beds and a side table for the comfort of the guests.In the corner of the outdoor terrace, there is a pampering spa Jacuzzi under a quality gazebo that can be closed.
כלול באירוח
האירוח במתחם כולל יין/שמפנייה איכותית, מים מינרליים, קפסולות קפה, שוקולדים ועוגיות, סבונים מפנקים, מגבות רכות, חלוקי רחצה ועוד.
meals
By prior arrangement and reservation, breakfast can be ordered at the B&B by an outside chef.
Important Information
Fenced and private compound.* There is private parking adjacent to the complex (suitable for one vehicle).* No noise after 23:00 according to the law.
Booking Conditions
click here
facilities
Reviews on Chardonnay
Reviews were written by visitors who stay us a guest in
Chardonnay
Found a mistake on the pag Chardonnay?
click here