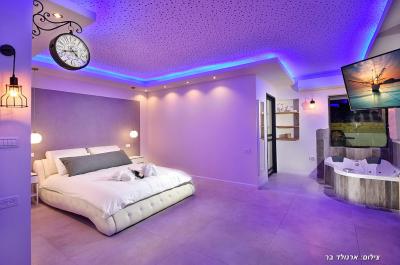 About Us
Northern Lights - Aurora - New! prestigious! Cozy!
Moshav Ein Yaakov can be proud of the suites set up in his lap and there is no doubt that much of his great pride is the new and prestigious Aurora complex! In the pampering compound, the owners of the house thought of the smallest things that would suit your time in the heat, from a large heated swimming pool with a quality roofing, large sleeping beds with an especially comfortable orthopedic mattress to an impressive and luxurious complex overlooking the view and the possibility of closing the shutters to perfect intimacy!
Interior view
A spacious and spacious suite, with an innovative and prestigious design, in white-gray colors with a lustrous red touch.A huge space with LED lights that surround the ceiling and give a unique view of the place. In the central space there is a large bed, with an LCD screen with SMART TV technology and cable connection, a corner Jacuzzi overlooking the outdoor area, a well equipped kitchenette, a double bathroom with two washbasins and two shower cabins Head of Rain. There is an additional bedroom with an LCD TV and cable connection.An extra luxurious and prestigious areaIn the outdoor and indoor pleasure complex you will enjoy a spacious and well maintained yard with quality ceramic paths, a high quality barbecue area, comfortable seating under a roof and under the sun, a hammock, sun beds, dining table and pleasant night lighting. Next to the natural and beautiful rock wall is the swimming pool, well heated and has a roofing that allows the sun to penetrate and an LCD screen in front of the pool.In addition, the entire complex overlooks a beautiful mountain view from which you can view the seating areas. If you want absolute intimacy without fear or sterile closure, the owners have enclosed the complex with three electric shutters for maximum comfort.
Winter
A pampering corner Jacuzzi overlooking the outdoor area and a heated indoor swimming pool.
Include hosting
Enjoy a bottle of fine wine, milk, coffee capsules, coffee / tea, juice, crisp cookies and chocolates, soft bathrobes, high quality bath towels, face and hands towels, spa shoes, toiletries, soaps, fragrant oils and candles.
Meals
In advance, chef meals can be ordered for rich breakfasts up to the suite.
חשוב לדעת
**חדש**במתחם נפרד ופרטי לחלוטין- סוויטה גדולה עם 3 חדרי שינה זוגיים, כאשר לשניים מהם חדרי רחצה פרטיים עם מקלחות ושירותים. למתחם בריכה גדולה עם מעקה, וג'קוזי ספא לוהט. מתאים לאירוח עד 12 נפשות.
Booking Conditions
click here
facilities
Reviews on Northern Lights - Aurora
Reviews were written by visitors who stay us a guest in
Northern Lights - Aurora
Found a mistake on the pag Northern Lights - Aurora?
click here