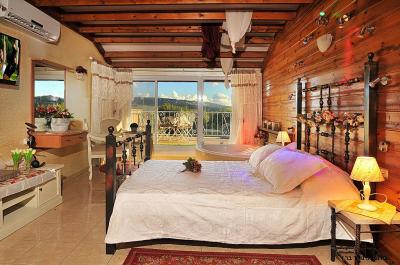 Enjoy suites from: Double soft and inviting, a double Jacuzzi corner alongside romantic sitting area overlooking the magnificent views, the viewing screen LCD 37 is connected to the satellite yes, a luxurious bathroom, air conditioning, wireless internet, comfortable dining area and cozy, fully equipped kitchen that includes a refrigerator, microwave, kettle electric, Seating tea / coffee and Serving hotplate. In addition, you can inhale fresh air on the balcony private views with seating refined, rich garden furniture and rich flora and flowers.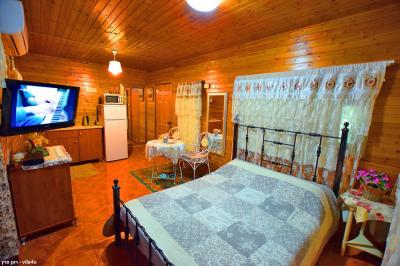 Our log cabin is a separate and charming hut that allows for complete privacy by entering and a private pool for its guests. In the cabin you will enjoy a soft and inviting double bed, a corner double Jacuzzi, a 37-inch LCD screen connected to the yes satellite TV, an elegant bathroom, air conditioning, wireless internet, a comfortable dining area, Coffee and crockery. In addition, you can enjoy a completely private pool just for you and with a pleasant seating area in front of the view, breathe clear air in the courtyard of the cabin and relax in a beautiful yard with rich and flowering vegetation.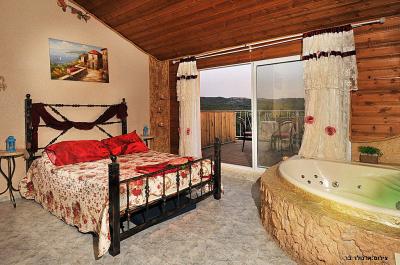 About Us
El Mull Ha-Nof - סוויטות מפנקות ומרגשות ובקתת עץ עם בריכה פרטית
If you are looking for a quality vacation where the star is open green landscape, you came to the right place. 4 accommodation we lived in Galilee, succeeded coordinates the Kziv porch, Forest Park Goren Goren and spectacular evergreens. Garden entire complex wrapped refined and flourishing vegetation which also awaits the luxurious swimming pool. With a view to serving you a hefty dose of happiness and romance that will bring you to new heights of indulgence and excitement.Compound suites enjoy a luxurious swimming pool in natural forest, big swings, News barbecue, hammocks, rivers and waterfalls flowing down the garden and garden furniture Mtzddm rich, green lawn, rockery and rich vegetation.The complex is near trips Horse Riding, Off-road driving experience Jeeps or Ranger ATV, hiking in nature, parks and nature reserves, heritage sites and history, diverse restaurants, bars and more.
הסוויטות המפנקות ובקתת העץ הפרטית
From every corner of the complex you can see the Kziv, Forest Park Goren Goren and spectacular evergreens.
נוף מהמתחם
From every corner of the complex you can look out over the Kziv Stream, Goren Park and the Goren Forest, enchanting landscapes and a clear and clean atmosphere that can only be breathed in the Western Galilee.
כלול באירוח
Accommodation + bottle of wine, milk, coffee and tea, high-quality bath towels, face towels and hands, toiletries: soap, bubble bath, bath salt, shampoo, fabric softener.
ארוחות
By appointment you can get a luxurious country breakfast, lunch and dinner.
חשוב לדעת
The complex is suitable for birthdays, marriage proposals or any private romantic event you have thought of - by appointment.Facing the landscape - this is a perfect romantic vacation.
Booking Conditions
click here
facilities
Reviews on El Mull Ha-Nof
Reviews were written by visitors who stay us a guest in
El Mull Ha-Nof
צפייה בכל חוות הדעת
Find out attractions and restaurants near El Mull Ha-Nof?
click here
Found a mistake on the pag El Mull Ha-Nof?
click here