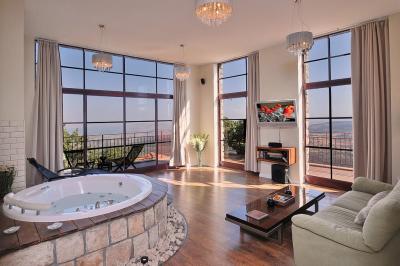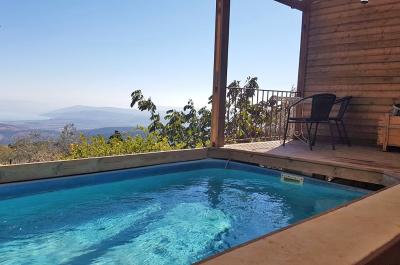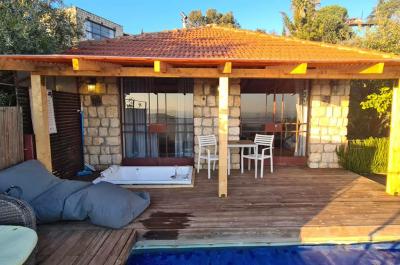 About Us
Adom Lavan - Vacation with plenty of view
Look at the landscape, breathe deeply and relax - this is exactly the experience that the "Adom Lavan" complex wants to give you and pamper you. A luxurious holiday, at the edge of the mountain, facing the breathtaking views of the Galilee mountains and the beauty of the nature surrounding Moshav Amirim, where the three luxurious suites are located.
The suites
In each of the impressive and luxurious suites you will enjoy a double bed with soft and pleasant trees, a home cinema system, an LCD screen with satellite channels, a pampering Jacuzzi, a DVD player with a large movie library, a luxurious bathroom, a comfortable seating area and a fully equipped kitchenette including an espresso machine Professional.Each unit has an intimate seating area that overlooks the magnificent view, with quality garden furniture and well-kept greenery.The Provence Suite and the Stone House have a private swimming pool.
Winter
In each suite you can indulge in a hot, bubbly Jacuzzi and curl up in high quality and pampering mattresses.The stone house and Provence suites enjoy a quality wood fireplace.
Include hosting
A luxurious Israeli breakfast will be served directly to the suite.extra chargeHome honors: fine wine, coffee and tea, milk, candies, delicacies, cornflakes, a selection of sweet and savory cookies, juice, organic fruits and more.Various treats such as bathrobes, quality towels, face and hand towels, and a variety of high quality cosmetics.For a supplement you can book professional massage treatments for the suite.
Location
In the vicinity of the moshav you can go on interesting field trips, jeep tours, bicycles, ATVs, tourist routes, streams, hiking trails and more.Fine restaurants scattered throughout the area, nature reserves and other interesting attractions.
חשוב לדעת
בסופי שבוע מינימום להזמנה שני לילות.
Booking Conditions
click here
facilities
Reviews on Adom Lavan
Reviews were written by visitors who stay us a guest in
Adom Lavan
Found a mistake on the pag Adom Lavan?
click here