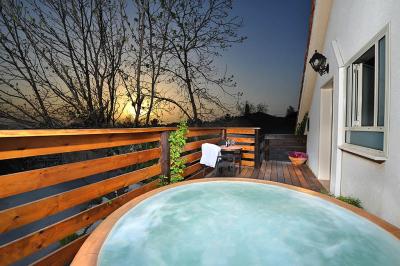 Pecan B&B - pampering and cozy on the gallery floor with a dreamy view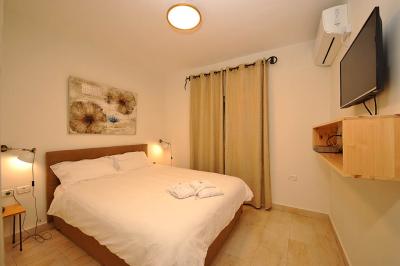 The Olive B&B - a spectacular B&B with two bedrooms for couples or families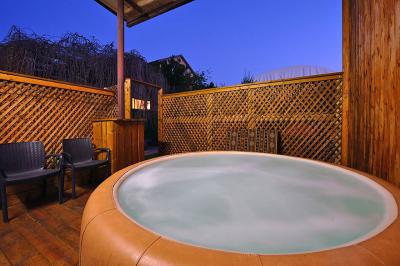 Limonit B&B - a cozy B&B with an excellent view, designed and spacious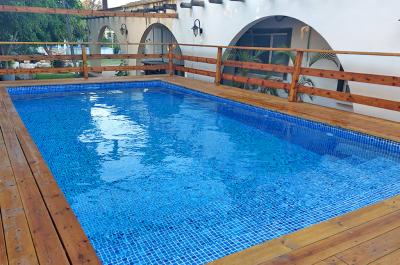 Spacious and charming suite with two bedrooms and a private heated pool in winter
About Us
zimer lasadot - Special rural accommodation - in 4 pleasant and warm accommodation units.
In the heart of a spectacular agricultural estate in Moshav Sde Yitzhak between Netanya and Hadera, a rural complex has been established, full of plenty of treats and is called "B&B for the fields". In the magical complex you will find three luxurious B & Bs: "Pecan B&B", "Olive B&B", "Lemonade B&B", in addition to a luxurious private suite "Lavender Spa Suite".In the complex you can host loving couples, families with older children, the religious public and more.In the area you will find plenty of different and varied attractions and entertainment, including streams and trails, various museums, malls and shops, restaurants and more.
The interior of the suites
In the pampering complex you will find four accommodation units:The first is "Pecan B&B": the B&B consists of one large and open space - located on the upper level - a magical and spacious gallery floor, where you will find a double bed, and a comfortable seating area, air conditioning, spacious bathroom where towels and toiletries await you, new LCD screen with connection Cables YES, and a fully equipped kitchen for light meals. You will also enjoy a private terrace with a Jacuzzi overlooking the spectacular view of the moshav fields.The second "Olive B&B": a large and spacious B&B consisting of two bedrooms, each with a double bed, a quality air conditioner and an LCD screen with a connection for YES cables. With a fully equipped kitchen for light meals, seating areas and two bathrooms where towels and fragrant toiletries will be waiting for you. The B&B is suitable for a family or two couples for a cozy stay. In the B&B garden you will find a comfortable swing, a large and private Jacuzzi for the B&B, shaded seating areas, and a private BBQ area with night lighting for maximum comfort.The unit is completely insulated and will give you intimacy and comfort.The next unit is a "lemon B&B": the quiet B&B includes a bedroom with a double bed, air conditioning and of course a TV with an LCD screen connected to YES cables, a pampering bathroom with towels and scented bath towels, a fully equipped kitchenette with ceramic hob, microwave, cooking utensils and food. A particularly comfortable seating area for B&B guests. You will also find a private covered terrace with an extra large private Jacuzzi.Lavender Spa Suite: The luxurious suite is located in the northernmost part of the farm and sits on an acre of pure nature, and is surrounded by exotic trees that will make you feel like a romantic and intimate dream.The interior of the luxurious suite is designed and includes two bedrooms, with the first one you will find a luxurious double bed, in front of it an LCD TV connected to YES cables, and a huge and luxurious bathroom in shades of black and white with Jacuzzi and TV screen as well.In the second bedroom you will find a double bed and also - a spacious bathroom.In the suite you will find a living room with 2 large sofas, a fully equipped kitchen that includes a ceramic hob and oven, a microwave, cooking utensils and serving utensils, a Tami 4 water bar and an espresso machine with a quality frother and capsules.The outdoor complex of the suite is fenced with a quality wooden fence for safety and privacy together. The complex includes a large private swimming pool heated in the winter months (4X8), 1.20 meters deep, a knights table and a wooden counter overlooking the pool, a large spa Jacuzzi and more.
The garden area
The outdoor area of ​​the complex is divided into two parts:One is the outdoor area of ​​the B & Bs where you will find a shared pool by time division (which includes curtains for privacy), as well as each of the B & Bs has a private spa Jacuzzi.In the private outdoor area of ​​the suite you will find a heated private pool and a sauna will be built, along with an extra large and pampering spa Jacuzzi.In common with all four units you will find a spa fish pool, a play shed that includes a ping pong table, a professional snooker table, a large screen and more.
Include on vacation
Upon arrival at the complex you will enjoy quality bedding, bath and pool towels as well as toiletries, and to complete the pampering an espresso machine with capsules in each unit.By prior arrangement and additional payment:Treat yourself to quality country breakfasts,Spa treatments, massages and more.
Attractions nearby
Meeting of the 3 streams Hadera Haviva and Yitzhak, Nahal Alexander and the Turtle Reserve, Agmon Hefer, the Old Courtyard Museum in Ein Shemer, the Science Museum in Hadera, Kedem Water Park, Utopia Orchid Park, Berla Music Club at Kibbutz Lehavot Haviva.nearby:Supermarket at the entrance to the open moshav 24/7, including on weekends. Bus stop, line 65 near the B&B. A synagogue is active on weekends and holidays, in the nearby Moshav Ahituv active all week.Farm Shop:The quality products of Farm Field are produced based on the natural and wonderful properties of the olive tree fruit, we produce olive oil and sell it to our guests, as well as produce body oil, butter oils and body soap which can be purchased as well.
Booking Conditions
click here
facilities
Reviews on zimer lasadot
Reviews were written by visitors who stay us a guest in
zimer lasadot
Found a mistake on the pag zimer lasadot?
click here