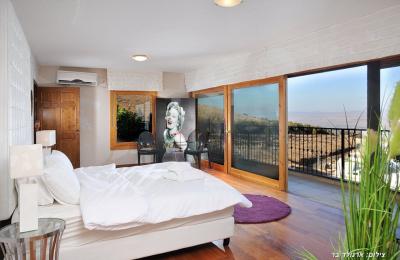 Pool and hot tub surrounded by prestige private spa and views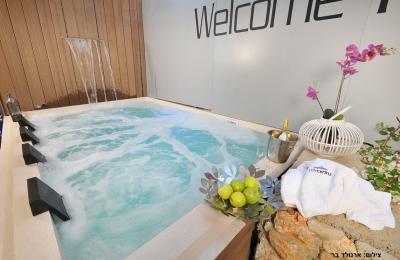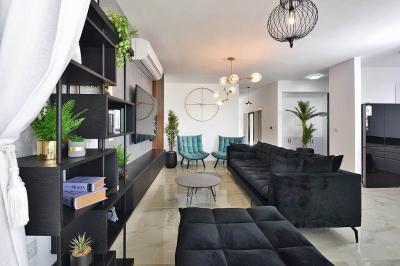 About Us
Palace boutique - Full privacy without compromise in front of a dreamy view in a luxury suite!
In front of a magnificent panoramic view, the dream "Palace Suite" was established, which is located in Rosh Pina, the Pearl of the North, overlooking breathtaking views and about half an hour's drive from the shores of the Sea of Galilee.The suite is completely private and offers a variety of pampering with perfect intimacy, including a luxurious outdoor complex, a 35-degree indoor heated swimming pool and a professional and impressive spa Jacuzzi overlooking the magnificent view.The Moshava is surrounded by many area attractions, tours and restaurants, and there is also a synagogue nearby.
In suite
In the bedroom of the suite you will enjoy a dream king-size bed facing a huge window facing a mesmerizing view and an elegant bathroom.Lounge magnificent suite Enjoy exclusive design not seen the suites in our thinking about the smallest details and finishing exemplary, fireplace for heating suite, quality furnishings, a broad space, LCD TV, spacious kitchen and fully equipped including espresso machine and modern dining table large.Foreign invested Enjoy the site heated swimming pool and indoor hot tub spa is placed next to a large, high-quality, playground for children, sun beds, garden lighting, large dining table and of course breathtaking views.In addition, enjoy a spectacular and pampering game for both children and you! A games room with ping pong, billiards and table football, and a huge trampolina garden and slides.
Winter
The Palace Suite allows you to enjoy the whole year! In the cold season you can warm up thanks to a large quality wood fireplace in the luxurious lounge of the suite. In addition, the outdoor complex awaits you with a heated indoor swimming pool for 35 ° C, a hot bubbling spa Jacuzzi and a professional wet sauna!
Emphasis on the spot
You can order directly from the suite breakfast / lunch / dinner according to a rich and varied menu and your choice.In addition, the kitchen is at your disposal and you can use it freely and to prepare anything you like.
Location
Near the village you will find plenty of hiking trails, rivers, lookouts, area attractions, visitor centers, nature reserves and deploys course gourmet restaurants.In addition, you will benefit from a special recovery Baron impressive garden colony, Rosh Pina River suitable light walks outdoors and picnic on the river bank, expects Nimrod spectacular and varied food court.
Important Information
* On weekends, on holidays and in the hot season (July and August) the complex is rented as a villa only.
Booking Conditions
click here
facilities
Reviews on Palace boutique
Reviews were written by visitors who stay us a guest in
Palace boutique