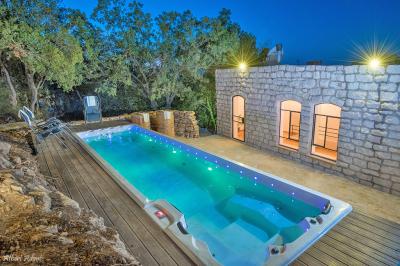 A prestigious celebration spectacular in natureExperience an extraordinary vacation in a private natural environment, isolated and gorgeous, surrounded by a cylindrical authentic atmosphere and luxurious. Home gift is one of the two complexes in private accommodation in the heart of the forest, offering fine 3 bedrooms, each adjustable bed and tv screen smart modern. Another room is also suitable lodging and everyone expects a homey living room warm and luxurious and fully equipped kitchen. Foreign compound includes a pool and indoor heated currents in nature and next to the two luxurious bath facilities
A prestigious celebration spectacular in natureExperience an extraordinary vacation in a private natural environment, isolated and gorgeous, surrounded by a cylindrical authentic atmosphere and luxurious. Romantic suite is one of two luxurious complexes and amazing in the forest, which offers excellent accommodation for couples or those joining family hosted another hosting site. In this case the romantic suite guests will be able to enjoy the heated outdoor and indoor streams sauna facilities belonging to the additional compound. Inside there awaits you an exclusive bedroom and a luxurious living room side, kitchenette and balcony designed especially spectacular.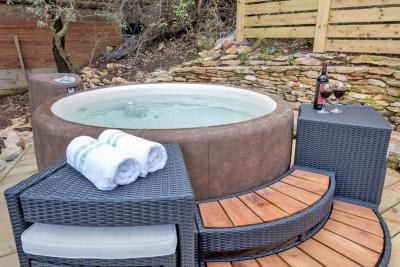 The suite northern New Here most of the rooms offered by the complex! The suite has a luxurious bedroom and well-equipped, with soft bedding, LCD screen, yes connecting channels and home cinema system. Luxurious and stylish living room, a spacious bathroom and a fully equipped kitchenette with an espresso machine. Instead enjoy a private balcony and spectacular views specifically, private bath and outdoor spa hot tub bubbling.
About Us
Kapland - עולם תענוגות מודרני בתוך היער מושלם למשפחות
* New holiday complex - September 2016Hard to explain in a few words what is happening in the area Kflnd beautiful gift seat, high above the Galilee settlements, surrounded by natural landscapes and the most impressive forests.Kflnd the guests enjoying combine the natural environment stands out impressively and countless features modern certainly were not expecting who enter here into the depths of the forest vegetation wild, stone paths, terraces, pools, ornamental fish and tree-lined avenues are endless decorating the garden in a large and embracing content of the two complexes hosting isolated and silent spectators landscape.The two compounds ancient cylindrical stone and decorated accordingly, can be rented together and allow couples and families to spend their time in an exclusive romantic vacation outstanding.The largest of which is the "house gift" - offering 3 bedrooms particularly plush (with smart tv and among other adjustable beds in each room), a sitting room suitable for sleeping additional guests, living room and kitchen and a large fine. The house's garden complex features a swimming currents gift of a magnificent indoor heated pool and two saunas side shaped like a barrel.The second guest compound is "romantic suite", which offers a large bedroom and spacious expect from an evergreen landscape rolls ... In addition you will find a living room and kitchenette suite, balcony with breathtaking views and lots of privacy.
אי אפשר להפסיק להתפעל מהנוף
Their balconies to observe without interference the spectacular hills of Galilee and tour the complex will lead you to me the wild vegetation, trees and vegetation Boulevard particular, are an integral part of the landscape of Galilee
חורף קסום ויוקרתי
Experience of Kflnd perfect accommodation for guests staying in the winter, primarily due to the cold temperature preserves natural landscapes and gardens, and contributes to the magical sight of the wonderful prevails here. Within the complex you can indulge in the swimming pool and hot streams and two side dry sauna facilities, a fireplace in each of the sets of luxurious accommodation, refreshments rich experience perfect films that offer rooms, Playstation games, and more ...Light snow falls in the winter and allows our guests to enjoy most of the season.
כלול באירוח
B + wine from a local winery, soft drinks and prestigious custom packaging, pack hot drinks, pastries sweet and savory, chocolates, snacks, seasonal fruits, Cosmetics for bathing, body towels, bathrobes and quality soaps.* By appointment and for an additional fee you can enhance your holiday experience by a body massage or professional staff.
ארוחות חגיגיות בתוך הטבע
Kflnd offers an upgrade experience to stay in the area by a breakfast for two rich and fresh and catered gourmet chef specialties served to applicants according to menu choice.Gift house guests expect a fully equipped kitchen for cooking and for all the guests of the complex has a barbecue - that can be used without restriction.
Booking Conditions
click here
facilities
Reviews on Kapland
Reviews were written by visitors who stay us a guest in
Kapland
צפייה בכל חוות הדעת
Find out attractions and restaurants near Kapland?
click here
Found a mistake on the pag Kapland?
click here