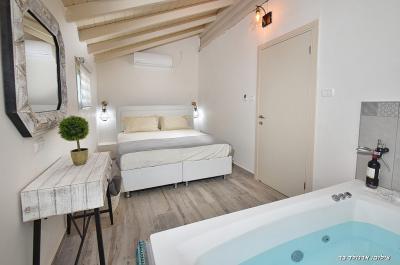 About Us
Ahuzat aosher - An amazing holiday in a luxurious private wooden cabin
New Compound! Opened in August 2018In Dalton, in the Upper Galilee, opposite the green expanses and mountains and vineyards, situated Ahuzat Hahosher. This is a single and luxurious wooden cabin in complete privacy, with a separate bedroom for the parents and a designed and lighted level for the children. In the private yard you will enjoy a prestigious and cool swimming pool in the hot summer. The "Ahuzat Hahosher" is a well-planned, well-equipped hotel, where you can enjoy a dream vacation with the intoxicating nature of the Upper Galilee.
An inside look
In the compound you will enjoy a large and luxurious wooden cabin with a separate bedroom for the parents and a double bed with soft and caressing bedding. In front of the bed is a pampering Jacuzzi with a wooden dressing table and a mirror above it.The main living room of the suite is decorated in shades of gray and yellow and includes a large comfortable sofa and a beautiful TV armchair with an LCD screen connected to HOT. There is also a large dining table in a pleasant wooden cabin. The vacationers will enjoy a fully equipped kitchen including a refrigerator, a small oven, an espresso machine and more.The large and spacious children's gallery floor is fun for children, with 3 beds opening, and features a private LCD screen for children with a small TV armchair. Soft soaps and towels await you in the bathroom.
The private foreign area
Outside the cabin there is a large wooden balcony with a large dining table overlooking a lovely view, from which you can descend to the private pool area, which includes a high-end swimming pool (heated in winter) And an outdoor Jacuzzi, pampering and private only for you . At night the complex and the pool will be illuminated by a magical and romantic lighting that will instill in you an atmosphere of freedom and tranquility.
View from the complex
From the complex you will find a picturesque and mesmerizing view of the Galilee Mountains, including green trees and vineyards. Come sit on the balcony and feel the atmosphere of Italy, the little Tuscany in the Upper Galilee known for its good and tasty wines.
Include hosting
Guests will enjoy a variety of treats including: cookies, chocolates, coffee / tea corner, coffee capsules, milk, seasonal fruits and soaps.extra charge:Pampering and rich breakfasts can be ordered for a couple or for the whole family by appointment.
attractions
Dalton is located in the Upper Galilee, so vacationers can enjoy not only a perfect and spectacular view, but also a variety of attractions suitable for both couples and families. In the vicinity of the village you can enjoy many hiking trails, horseback riding routes in the green nature between fields and vineyards with addictive nature scents, ATV tours, jeeps and more.Treat yourself to fine restaurants in the area with wine tastings at the excellent Dalton winery.
Booking Conditions
click here
facilities
Reviews on Ahuzat aosher
Reviews were written by visitors who stay us a guest in
Ahuzat aosher
Found a mistake on the pag Ahuzat aosher?
click here