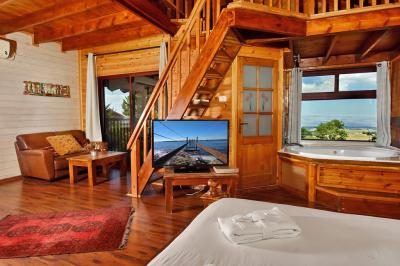 About Us
Pisgat Hahar - Pastoral resort with magnificent views
2 cabins located on the top of the mountain in Rosh Pina, which is located in a natural grove and green vegetation with trees that provide clean air. Each cabin has a large luxurious double bed and a jacuzzi overlooking the enchanting Sea of Galilee. In addition to air conditioning, LCD screen with YES channels, shower and toilet and fully equipped kitchen with microwave, electric kettle and serving dishes.
The Common Foreign Area
The complex has a well-kept yard surrounded by ornamental trees and greenery. The air is clean and pleasant. It will give you the atmosphere of your stay at the best and the atmosphere of peace and tranquility is always in the area. There is a view of Lake Kinneret and there are hammocks and seating areas for your enjoyment.In the vicinity of the Rosh Pina colony, which conveys the Galilean magic experience and attracts a wide range of tourists of all kinds. In Rosh Pina you will find a wide variety of attractions, cafes, restaurants and shops. And outside Rosh Pina in its area you will find Agmon Hula, bicycle tours and sailing with fantastic views and also the unique Manara cliff.
Include hosting
Tulitika Products:Shampoo, bath lotions and towels.extra charge:Enjoy a rich and rich breakfast buffet directly at your disposal.Relaxing treatments and professional massages can be ordered for guest units. All types of massages will be handled by qualified massage therapists.
אטרקציות
המושבה ראש פינה מושכת אלייה מגוון רחב של תיירים ומצליחה להעביר אליהם את הקסם הגלילי הטמון בתוכה. בסביבת המושבה תמצאו מגוון רחב של אטרקציות, בתי קפה, מסעדות וחנויות ומחוצה לה תוכלו לטייל באגמון החולה, צוק מנרה, לצאת לטיולי אופניים מרהיבים, מסלולי שטח ונופים משגעים.
חשוב לדעת
*ניתן לשריין למשפחות בתיאום מול בעל המתחם בלבד* *לא ניתן להביא בעלי חיים מכל סוג אל המתחם*אוהבים בעלי חיים- אך לא בצימרים *בעונה רגילה ביטול חינם עד 7 ימים *המתחם אינו נגיש- קיימות מדרגות בכניסה.
Booking Conditions
click here
facilities
Reviews on Pisgat Hahar
Reviews were written by visitors who stay us a guest in
Pisgat Hahar
Found a mistake on the pag Pisgat Hahar?
click here