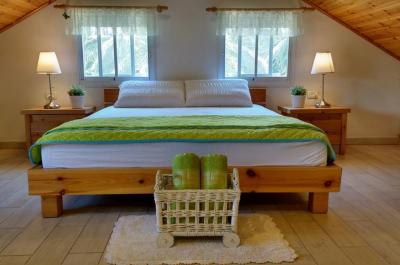 Private and pampering B&B - especially quiet, suitable for couples and families
About Us
Agadat deshe - A pampering and intimate complex with a single B&B with a pleasant private pool
In Moshav Ramot, located in the Golan Heights, the unique and private complex "Legend of Grass" was established for him -The pampering complex boasts one intimate and special B&B, decorated in light wood tones, soothing white and green - like the lush grass outside.The B&B can accommodate couples, families and a celebration of happy moments.Moshav Ramot is located in the center of abundant tourist interest in the southern Golan Heights - so near the B&B you will find a variety of fun and unifying attractions, including horse and jeep tours inside the moshav, spectacular hiking trails, quality restaurants and most importantly - only three minutes from the Sea of ​​Galilee.
Interior of the B&B
The quiet and private B&B, made of wood and built as an open space. Quite spacious where you will find a variety of equal treats.In a clean and relaxing atmosphere, in the bright and greenish shades of the natural landscape.In the B&B you will find a high-quality and luxurious double bed, built of light oak, with a high-quality and comfortable mattress, offered in quality and soft bedding in shades of white and cream.Next to the bed are two bedside tables with drawers for storing personal belongings, and night lamps, and in front of the bed is a basket with the body towels that will serve you.You will also find a seating area as a living room - with comfortable armchairs watching cable TV.The B&B is lit with windows facing the sun, contributing to a warm and homely atmosphere.You will also find - a kitchenette equipped with everything you need, next to it seating areas, a table and chairs for meals.There is also a pampering bathroom with towels, soaps and other toiletries.The intimate B&B has a particularly pampering indoor Jacuzzi, a square that stands in a quiet niche with a window to the courtyard.
The garden area
In the private courtyard of the B&B you will find, first and foremost, a large and luxurious private pool, clean and refreshing, from the rim of which emerges a designed and prestigious waterfall. Nearby you will find a large and boiling spa jacuzzi, with pampering seating areas and comfortable sun beds. The entire yard is fenced and private and the compound is quiet and intimate, full of plants and green trees, ornamental flowers and of course - well-kept and pleasant natural grass.
Include on vacation
Milk, snacks, wine from the Golan Heights wineries, espresso machine
Booking Conditions
click here
facilities
Reviews on Agadat deshe
Reviews were written by visitors who stay us a guest in
Agadat deshe
Found a mistake on the pag Agadat deshe?
click here